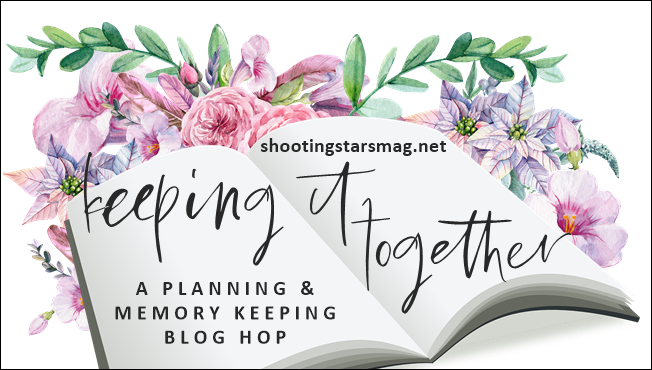 Happy Thursday! It's the final Keep It Together for 2019 – will you be joining us in 2020? I'd also like to announce that we have a new co-host: Keep It Together will be brought to you every month by myself, Alexandra from Simply Alexandra AND Rebecca Jo from Knit By God's Hand.
Keep It Together: My 2020 Memory Keeping Goals #ontheblog #planners
Click To Tweet
Today's post is a little different; I don't have any fun photos to show you, but since it's the end of the year, I figured it would be a great way to get ready for 2020 and all things memory keeping!
Keep It Together: My 2020 Goals
I'm going to break these down into different memory keeping categories, since I don't just do one thing. I had high hopes for 2019, but I've been kind of lax when it comes to planning and everything else, so fingers crossed the inspiration and motivation is high next year.
Happy Planner
I have a new planner for 2020, which I will probably share in January. I want to use my planner more this year. I feel like I put things down after the fact a lot and I'd like to keep up with it better.
I want to decorate my planner more! I did a lot of decorating in 2018, but not so much this year. I have TONS of stickers and washi tape and fun pens, so I really need to enjoy that aspect of planning more in the new year.
Keep track of books for review – I did this in my Bullet Journal in 2018, but before that, I always had a list in my Happy Planner. I think I'm going to go back to my planner, but we'll see. At any rate, I need to keep better track of review books (especially those from Netgalley).
Bullet Journal
I have what I call an Entertainment Bullet Journal. I keep track of monthly stats like Books I Read, Monthly Playlists, Movies I Saw in the Theaters. I've been really bad at keeping up with that this year. I have most of the year in there now, but I want to be more on top of it in 2020.
Keep better track of songs for my playlists – I love looking back at my Monthly Playlists, but sometimes I get so behind and I haven't been tracking the songs, so I don't know what all I really listened to in a month. I need to write them down more often!
Pay attention to quotes in books that I love. The lovely Shea from Shea Lennon gave me the idea to take pictures of quotes that you're loving, and I've done this for physical books, but I want to be more diligent about it next year. After all, it's way easier to look up lyrics for a song than it is to find that perfect quote you loved from a book (unless it's something super popular).
Scrapbooking/Project Life
I actually got a Project Life album this year – as well as some cards and inserts – so I'm ready to get started on my London album. Unfortunately, I just haven't started. I meant to work on that this year so 2020 NEEDS to be the year that I finally do that. After all, I went to London three years ago now (and yes, I STILL have blog posts to share about it too – whoops!)
Along with my Project Life album, I want to get back to scrapbooking in general. I don't know if I want another PL album or a "traditional" scrapbook, but I used to keep scrapbooks for awhile and it's been years now. I even have a ton of older photos printed off that I need to scrapbook. Seriously – this goes back to high school. I've made a couple scrapbooks over the years for my sister and I think they turned out wonderful, so I want to really put more time and effort into my own. It's a fun way to remember things!
What are your 2020 Keep It Together Goals?
Whatever you do – planners, bullet journals, scrapbooks, or something else- let me know what you hope to focus on in the new year!
If you have your own post, link up below! 
You are invited to the Inlinkz link party!