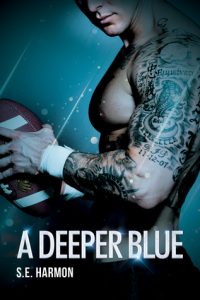 A Deeper Blue by S.E. Harmon
Review by Lauren
Source: copy from publisher, Dreamspinner Press
Official Summary (add to Goodreads): A year ago, Kelly Cannon couldn't imagine he'd end up with his formerly straight best friend. It's hard to believe he can finally kiss Blue any time he wants… as long as they're in private. And there's the rub. Despite Kelly's promise to wait until Blue is ready to come out, he's tired of sneaking around. The cracks in their relationship are starting to show, and there might not be enough spackle in the world to fix them.
Britton "Blue" Montgomery may not be the physics brainiac his boyfriend is, but he's not stupid. He knows Kelly isn't completely happy. But he's not ready to be the poster boy for bisexuals and gays in the NFL. He just wants to keep his head down, play the game he loves, and go home to the man he adores. Is that too much to ask?
With the truth slowly coming to the surface, Blue must make a choice. If it means losing Kelly, there's no decision to make…. He has to find enough courage to face the music and hope they'll survive the fallout.
Man. Happily-ever-afters may not be just for Disney princesses, but they sure are a lot of work.
Review: A Deeper Blue is the sequel to The Blueprint, and I was eagerly awaiting it since I finished the first book. I don't think it's much of a spoiler to say that Blue and Kelly – best friends – do end up dating, as I state that in my initial review. A Deeper Blue is how they handle that relationship, with Blue still mostly in the closet as he's an NFL player. He loves Kelly, but he's terrified of coming out, which means that Kelly has to keep his relationship a secret from almost everyone as well.
I like that Blue and Kelly were best friends for so long before dating, because it's easy to see how well they know each other. A Deeper Blue also focuses a lot on their careers- there's a lot about Blue and the NFL, but readers also learn more about Kelly as a physics professor. I really appreciated this, because the book could easily be more about Blue, and I like that it really focuses on the both of them, despite the names of the books.
A Deeper Blue is a fantastic sequel to #mmromance The Blueprint; highly recommend both! #bookbloggers
Click To Tweet
Both The Blueprint and A Deeper Blue were solid four star reads for me, so I highly recommend them!