A Look Back at Blog World (2)
This is my second Look Back at Blog World and it's where I share some links I found searching online in the past week or two that I thought were worth sharing. I also answer any comments/questions on my posts that I figured needed a reply.
Books I'm Now Curious to Read:
I saw a review for The Fairyland Murders at
Must Read Faster
. Please check out the review for more thoughts, but the blog really seemed to enjoy the book. I've been pretty interested in fairy tale type of reads lately, and this one sounds unique and interesting! The review is attached to the blog name above!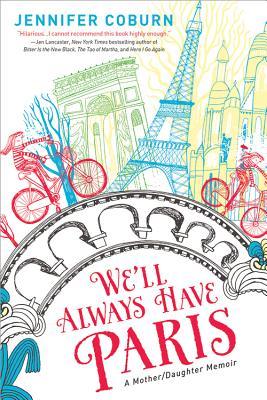 Debbie from the blog
Bookish
shared her thoughts on the book We'll Always Have Paris: a Mother/Daughter Memoir. I've been trying to read more memoirs lately, especially ones written by your regular, everyday people. I love that this book focuses on a mom and daughter. I'm curious about Europe, and Paris, so I think this would be a good choice for me. Again, the review is attached to the blog name above!
Interesting Posts in Blog World:
*The blog Life Anchored shared this cute
DIY Birthday Basket Gift
. I love the idea of gift baskets because they are fun and creative, but they don't have to be all that difficult to put together. If someone gave me a gift basket of items they love or thought I would really enjoy, I'd be very touched. It shows a bit more thought than just giving someone a single gift for their birthday, or other holiday.
*The website
Slate shared an article
(with pictures) about a photographer who takes a photo every time he sees someone reading a book on the Subway. The idea is that e-books and e-novels are taking over, so it's going to become more and more rare to see someone reading a physical book. I hate the idea that physical books aren't as popular, but I don't feel like they will completely disappear. Regardless, I loved this article!
*Baby Loving Mama shared a fun Edible Rainbow Kids Activity. I love that you could use this as a decoration for a party too. She notes that if you want your child to be able to eat this, then doing so soon after creating would be best or the cereal will go stale! (The photo above belongs to the blog, Baby Loving Mama).
Your Questions Answered:
Someone commented about not quite knowing if the
book was historical fiction or not. It is, it takes place in turn-of-the-century
London and is described as a historical mystery series.You can visit this link to learn more about the series.
My Into the Woods review: Someone commented about Johnny Depp and his ability to sing, so I thought I would share a video from the movie version of the musical, Sweeney Todd, where Depp plays the title character. His singing voice is very similar to his role as the Wolf in Into the Woods.