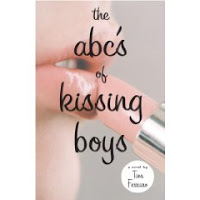 The ABC's of Kissing Boys by Tina Ferraro
Review by: Lauren
Parker's world is falling apart: she's a Junior on JV soccer who was left behind by her friends for Varsity, said friends are refusing to speak too her and are resorting to public humiliation until Parker is no longer on JV, and to make it to varsity, she has come up with a plan that involves kissing lessons with the freshmen boy across the street whose father is in a feud with her dad.
The novel is a short, fun read about a girl who will go to desperate measures to get the life she loves back. I wasn't a huge fan of Parker most of the time, as she was pretty selfish and only worried about achieving what she cared about. However, she did grow as a person throughout and began to make better decisions. Tristan, the freshmen, was very sweet and mature and along with Parker's ex-BFF Becca, taught Parker a lot about life and love.
One of the exciting things about the book is that all the chapters begin with a letter of the alphabet and some type of tip on kissing. The last chapter's title made me chuckle a bit and that could be because I'm easily amused, but still…it's worth a look (and no, it's not Z). My absolute favorite letter was G though, and instead of making you wonder, here you go:
Graduation: For many girls, great kissing is a diploma in itself; for many guys, it's a prerequisite to a bigger course of study.