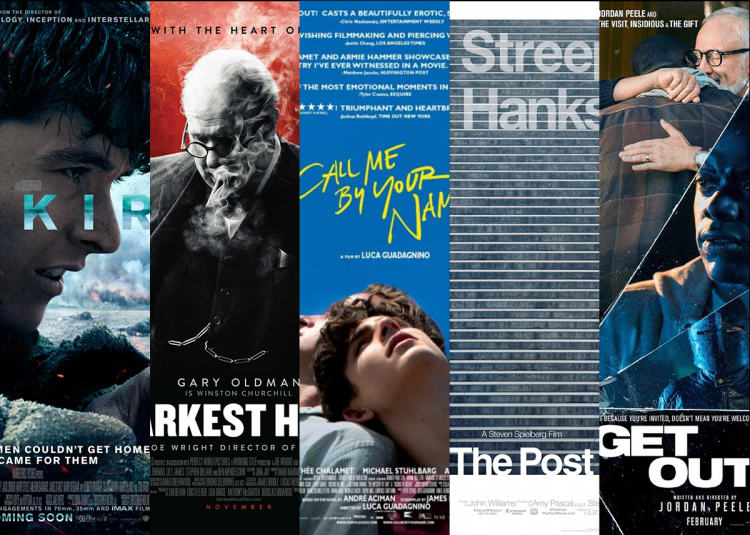 This past Saturday, March 3rd, I went to my local AMC Theaters to attend their second day of the 2018 Oscar Showcase. The week before, four of the Best Picture nominees were shown, but yesterday, it was time for the final five. I elected to pay for Day Two because it had more of the movies that I still wanted to see. At that point, the only one I'd seen was Call Me By Your Name – which I loved and was happy to see again. As the Oscars were last night, I thought it would be fun to talk about the five Best Picture nominees that I have seen.
The AMC Oscar Showcase occurs every year – some AMCs have a 24 hour showing of all nominees, but most break it up into two days. There is a break between every movie – though some are longer than others – so you can get up and move, use the restroom, and of course buy more food to sustain you through a day of movies. It was essentially 11+ hours of being in a movie theater. It's fun though, so I recommend checking it out some year!
2018 Oscar Showcase at AMC: I saw 5 nominated films, and here's what I thought! #ontheblog #movies #2018oscars
Click To Tweet
In the order of how the movies were shown on Saturday–
Dunkirk
I'd heard going in that Dunkirk doesn't have a lot of dialogue, and while I'd always wanted to see this movie, I wasn't sure how I'd feel about that. It turns out that I didn't need to worry because the film captures your attention the entire time. I wouldn't say it was my favorite of the five movies, but it's worth watching. With the lack of dialogue, it's that much more important that the actors do so well and they are quite captivating. There are big names like Kenneth Branagh, Cillian Murphy, and Tom Hardy. But there are also lesser known actors who really make the movie, like Fionn Whitehead, who apparently made his film debut in Dunkirk. There's also Aneurin Barnard, who plays one of my favorite characters and surprisingly for me, he only says maybe…one word? Finally, there's Harry Styles, who you might know as a former One Direction member, and this is his acting debut, and he really does do a good job.
Should you watch it? Yes, I would recommend. It's not my top favorite, but I'm glad I saw it and it has a lot of great actors.
Darkest Hour
What's funny is that during the Showcase, one of the "hosts" if you will – he talks between each movie and gives away prizes – mentioned that it might have made more sense to show Darkest Hour before Dunkirk, because a big part of Darkest Hour actually talks about Dunkirk and explains certain things that the movie Dunkirk doesn't go into detail about. At any rate, this movie stars Gary Oldman as Winston Churchill. It's not that exciting of a film and it's probably my least favorite out of these five. I can see why people say Oldman should win Best Actor, but honestly, a lot of that credit goes to the makeup artists and just making him appear to be Churchill.
Should you watch it? If you really want to, but otherwise, this was my least favorite of the five I've seen.
Call Me By Your Name
This is my favorite out of all five films, and it's also the only movie nominated for Best Picture that I saw before the Oscar Showcase. CMBYN is actually based on the book by Andre Aciman. I don't know the exact year I read this book, but I believe it was close to around the time it was released. It's one I found at the library and really loved, so when I heard it was going to be a movie, I knew I had to see this one. It's filled with great acting, especially by Best Actor nominee Timothée Chalamet (who definitely deserves it). I will say though that it's a long movie that might be slow moving for some – I think it felt faster the second time, though. It's very much an indie, kind of European movie. It doesn't shy away from sexuality, and that's a large theme of the movie, but I think they handled everything well. It also might make you cry – it's that emotional! 
Should you watch it? Umm…yes. If it sounds like something you'd hate, then maybe pass, but if you're at all curious, I recommend giving it a go. This is one nominee I'll own on DVD as soon as I can.
The Post
Meryl Streep and Tom Hanks? Yes, please! This movie is all about the Pentagon Papers and how the Washington Post published them, to let the pubic know the truth about the Vietnam War, even when The New York Times had already been told to stop posting anything about them. It really shows you how much Streep's character had to lose (and this is a true story – so it packs that extra emotion). Despite knowing how this story will end, it was very much an enjoyable movie.
Should you watch it? Yes, this tied for my second favorite movie…along with Get Out.
Get Out
Get Out was written and directed by Jordan Peele, and it definitely deserves a Best Picture nomination. It's not your typical nominee though. You expect the indie darlings, and the war films, and the movies with big and famous actors. Get Out is a thriller/comedy of sorts, but with a lot of social commentary that never feels like it's beating you over the head. This movie is full of little twists and turns and it deserves to be watched, to be talked about.
Should you watch it? Yes, again – it's tied for second with The Post.
In Conclusion—
Out of the five nominees I've seen, here is my order (from best to worst – in my personal opinion):
Call Me By Your Name
The Post AND Get Out
Dunkirk
Darkest Hour
So, tell me: have you seen any of the Best Picture nominees? Do you want to? I'd love to hear your thoughts!