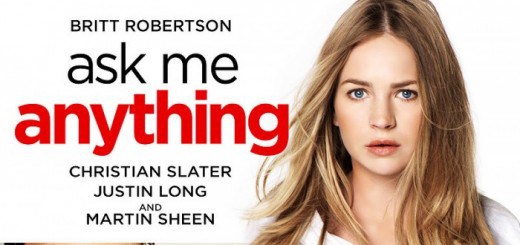 Lauren here! I'm back to answer all the questions that were left in my Ask Me Anything post. Still check it out if you're at all interested in earning up to $15 from The Book Depository. You have to do one of two guest posts by this coming Saturday, but believe me, it's easy! Write as little or as much as you want. Thanks for those that have helped so far- you can post something after this Saturday too, but the giveaway part of it will be over. I'll still share your post with Allison Burnett, the director/screenwriter, though. You can rent or buy Ask Me Anything via Amazon Video right now.
1. What was your most favorite read this year (only one!)?
I'm probably going to say The Silkworm by Robert Galbraith. It's the sequel to The Cuckoo's Calling, and I'm just loving these books more and more. This one was definitely more gruesome than the first, but it was just fantastic and had me guessing until the end. I really want more!


2. What is a genre that has challenged you this year?
I feel like 2015 will be my year for really digging into other genres, as I'm trying to read all these series that I never got too. However, for last year…hmm…I guess I read more scary/thriller/horror type novels. They can certainly be frightening, but if you push through that, you find some fantastic stories.


3. How do you find a balance between life and being a blogger and which is the most trying aspect of having an online presence?
Balance between life and being a blogger. This is difficult at times, because I really do get busy. Starting this week, I'll be back to two jobs and three classes, not to mention things like my dance class and a book club I just started. So yeah, I really love blogging, and it's difficult to find time, but I just try and fit it in when I can. Weekends are usually pretty good for that. I want to try and schedule things in advance more often than not because it helps me keep up and I hate having days and days of no new content. I don't have a magic secret; I guess I just make it a priority.
Most trying aspect of an online presence? Probably trying to keep it up. Like I said above, I get really busy and it's hard to always keep track of things for the blog. I know I can't just keep disappearing without new content or commenting back on posts, so it can definitely be trying sometimes. I think it's worth it though, so I do it.


4. You are such a bookworm – who in your life got you hooked on books? Do you remember the first book you ever read?
Out of my immediate family, I'm the one who was always reading. My sister loves reading now, but she didn't read as much when she was younger. I'm honestly not sure what got me hooked on loving to read. I just always remember doing it. I don't, however, remember the first book I ever read. I know I loved picture books like The Rainbow Fish though.
5. What made you decide to blog?
I was in an online book club for years, and I met this girl named Keaton. We also really loved music, and decided to try and create a monthly magazine of reviews and thoughts. We also had help from a couple other book club members. Anyway, that's why the blog is Shooting Stars Mag (mag is short for magazine). As I got more into blogging, I learned about the book blog world, so we decided to include books, as well as music and other entertainment. Nowadays, it's mostly books as I'm the only original creator left, but I'm trying to keep it mixed as much as I can with music, movies, etc.
6. Do you find yourself getting burned out on blogging?
Oh yes. I think if you've been blogging for a certain amount of time, you tend to get burned out at moments. I have been running this blog since August 2007 and it can be tiring and difficult to keep up with. I have thought about possibly quitting in the future, but I've never been at a point where I'm like "this isn't worth it" or "this isn't fun" so I keep up with it and do my best. I enjoy finding new books to read. I like reading the reviews and discussions. Yes, I could read other blogs, but I like being part of that world too, so I stay.
7. What is your all time best Christmas present?
Wow…I don't even know! I have a difficult time remembering what I got as a child, as I'm sure many of those were very exciting. A friend of mine made me this scrapbook on a poster board of an event we went too. It's hard to explain, but I love DIY gifts like that. Another friend made me an actual scrapbook last Christmas too, and that's quite lovely.
8. Will you watch the Fifty Shades of Grey movie in February?
No- I know people that want too though, as they enjoyed the books.
9. What movie do you wish you could watch again for the first time?
Harry Potter and the Sorcerer's Stone would be awesome. HP was my childhood, and I remember being so excited for that film. It would be great to see it again for the very first time. It would also be cool to see The Usual Suspects, since that one has such a great ending.
10. Do you feel guilty when you take a break?
I haven't taken that many "scheduled" breaks. Sometimes if I don't have posts scheduled, there are some days or so where the blog is empty because I'm just so busy. However, actually taking the time to get away from the blog is always a good idea, I think. I should probably do it a bit more often than I do to recharge, but I don't like being gone too much. So yes, I guess I feel a bit guilty, but I still think it's a good idea now and then.


11. Scented or non-scented candles?
I mostly have scented candles, so I'll go with that. I like non-scented for the ambiance of it though.
12. MnMs or Skittles?
My "and" sign kind of sucks on this blog, which is why MnM's has a n in the middle. Anyway, that's my answer. MnM's. I love both- but I'm such a chocolate fiend.