Happy Thanksgiving Eve! And if you don't celebrate, or don't live in the U.S., Happy Wednesday! One of my family's usual traditions for Thanksgiving is to go and see a movie. I know a lot of other people do this too – or you might be seeing something tonight or over the weekend -so I thought I'd do a couple mini reviews for movies that I've seen recently. I'll be seeing Justice League tomorrow; would you like a review of that in the near future? Let me know! Also, I already reviewed Thor:Ragnarok so you can find that here.
See a movie this holiday season: mini reviews of A Bad Moms Christmas + Murder on the Orient Express #moviereview
Click To Tweet
A Bad Moms Christmas – learn more on IMDB
I saw the first Bad Moms back in theaters and I found it to be really funny, so I was excited to check out the sequel. I love the main actors – Kristen Bell, Mila Kunis, and Kathryn Hahn- and now in A Bad Moms Christmas, we would get those three with their moms, played by some hilariously funny actresses! Now, I have to say that I didn't find A Bad Moms Christmas as funny as the first movie. There were some funny moments, and I again loved all the actresses, but something just seemed to be missing for me. I think part of that might have been the idea of that these were moms who were doing away with the "perfect life" illusion. That's there, but not as much as in the first, and I think I missed that aspect. All in all, it was a fun one, and it would still make an enjoyable girl's night out movie, but definitely not a favorite!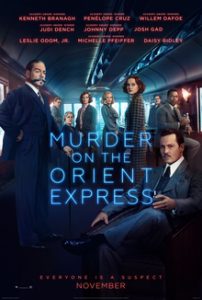 Murder on the Orient Express – learn more on IMDB
This was a movie I was really excited to check out! I read this book back in the 7th grade, and unfortunately, I haven't had a chance to re-read it since (though I do want to; I love Agatha Christie), so I knew how the book ended but that was about it. Knowing how it ends doesn't stop you from enjoying the movie though! Murder on the Orient Express has a star-studded cast, led by Kenneth Branagh (Professor Lockhart for you Harry Potter fans) who plays the famous detective Hercule Poirot (as well as directs the film). The basics of this film is that Poirot is traveling on the Orient Express when someone is murdered. He knows the man in charge of the train, so he agrees to talk to all the passengers and figure out "who done it." There are moments when the film is fast-paced, but overall, this is a more slow moving film. That's not a complaint though. It allows you to get to know the story, the players, and even Poirot. And it's a great ending – if you don't already know it! If you do, it's still an enjoyable film! I hope Branagh continues to make more Poirot films!
***
Now tell me – have you seen either of these? Are you planning to?