The above video includes the brains and actors behind The Big Bang Theory. They go around talk to some fans at Comic Con, letting them share their favorite characters. Of course, Sheldon is named almost right away. He's definitely my favorite. One of the guys, obviously, says Kaley Cuoco…who plays Penny, the pretty next door neighbor.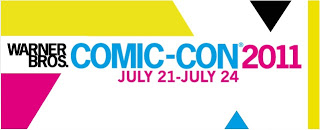 Afterwards, you get a peak at the panel. I really wish I could have been there. The moderator asks some questions and then they open it up to fans. This is stated to be one of their favorite parts, as I would imagine. You get some genuine people who love your show wanting to know more about it. They even have a girl asking about Sheldon's first kiss and how it might not have actually been the first, based on a past episode.
Obviously, a person's time at Comic Con is a wonderful experience. I'm extremely jealous of those that got to be there but you can see plenty of pictures and videos online!
For all the latest Warner Bros Comic-Con 2011 videos, pics and breaking news, head on over to http://bit.ly/mTHme7 and follow @TheWBDotCom on Twitter!
I have been hired by Warner Bros WBWord division to promote Comic-Con 2011.