AUTHOR BIO:
Kay Cassidy is the author of teen fiction she wishes was based on her real life. She is the founder of the national Great Scavenger Hunt ContestTM reading program for kids and teens and the host of the inspirational Living Your FiveTM web project. In her free time, she enjoys yoga, movies, music, and reading. Lots and lots of reading. She hopes her debut YA novel, THE CINDERELLA SOCIETY (April 13, 2010 – Egmont), will help girls embrace their inner Cindy.
OFFICIAL BOOK BLURB:
What a girl to do when the glass slipper fits, but she doesn't want to wear it anymore?
Sixteen year old Jess Parker has always been an outsider. So when she receives an invitation to join The Cinderella Society, a secret society of the most popular girls in school, it's like something out of a fairy tale. Swept up by the Cindys' magical world of makeovers, and catching the eye of her Prince Charming, Jess feels like she's finally found her chance to fit in.
Then the Wickeds–led by Jess's arch-enemy–begin targeting innocent girls in their war against the Cindys, and Jess discovers there's more to being a Cindy than reinventing yourself on the outside. She has unknowingly become part of a centuries-old battle of good vs. evil, and now the Cindys in charge need Jess for a mission that could change everything.
Overwhelmed, Jess wonders if The Cinderella Society made a mistake in choosing her. Is it a coincidence her new boyfriend doesn't want to be seen with her in public? And is this glamorous, secret life even what she wants, or will she risk her own happy ending to live up to the expectations of her new sisters?
BOOK TEASER:

I opened the card, my hands trembling in dread and the faint remnants of what I used to call hope, as a tiny silver high-heel pin bounced into my hand.
I juggled the pin for a second, barely managing to keep it from falling, and flipped open the note with my other hand. The words inside were not a message but an invitation that sent shivers down my spine:
Your presence is requested at The Grind.
Tonight, 7 p.m.
Wear the pin.
Discretion MANDATORY.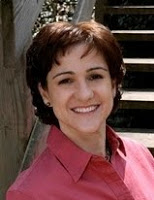 GUEST BLOG:

The Five-Point Star meets Living Your Five
When Lauren asked me to blog about something related to her Five-Point Star theme, I immediately thought of my Five ala Living Your FiveTM. Living Your FiveTM is about choosing the five ways you want to make a difference in the world. Once you know what they are, it's amazing how easy it is to keep those priorities on your radar and find ways to make your mark on the world in a positive way. The opportunities are there if you'll set your filter on auto-pilot to be on the lookout for them!
My Five are:
1. Embrace gratitude and pay it forward
The more I work with gratitude and find ways to pay it forward, the more I realize that these are often two sides of the same coin. More often than not, the things I do to make a difference in one also make a difference in the other.
2. Choose kindness and harmony
One of Alyson Noel's Living Your FiveTM posts last year really got me thinking about how we relate to the world around us. It's not just about what we do, it's about how we do it. The how matters in a big way. This part of my Five is my reminder that practicing kindness and encouraging harmony are two of the most basic, but profound, ways to make an immediate impact on the world around us.
3. Put family and friends first
Sometimes we spend so much time giving to others–often to people we may never even meet–that we lack the time or energy to give back to the people we love most. As I looked back on what I accomplished in 2009, I was happy with the ways I paid it forward to the outside world. But when I looked at how much time I was able to devote to the people I care about most, it made me sad.
While it's wonderful to make a difference in the greater scheme of the world, it's just as important to make a difference to the people closest to you. As HGTV says, "Change the world. Start at home."
4. Seek out inspiring stories and share them with others
This is something I do naturally because I LOVE a good heartwarming story! I have a lot of fun incorporating them into my tweets. But I want to do more of this. Including stories on my You 2.0 blog, sharing them with my email buddies and my family… just spreading the word about all the great things people are doing to make their world a better place.
So much of the news we hear is about what's wrong with the world. That's one of the things I love about Living Your FiveTM: it's all positive, all the time. 🙂 We might not be changing the world every second, but we're making a difference in ways that matter to us. Lots of people are doing the same thing, day in and day out. I want to find those stories, cheer them on, and share the inspiration they offer to everyone looking for a bright spot in the world.
5. Live a greener life
This is a big one for me. I love finding new ways to cut my carbon footprint and embrace the reduce-reuse-recycle way of life. Every little bit helps, sometimes more than you would ever imagine!
So those are my Five. If you want to join Alyson Noel, Tera Lynn Childs and I on the Fiver journey and become an Honorary Fiver yourself, check out Living your Five for all the details and get started today!
Note: If you buy The Cinderella Society through the Amazon link, I do get money once it adds up to enough. My review of TCS will be up later!