I'm excited to be part of the Stained book tour. You even have a chance to win an e-book copy of three books by Cheryl Rainfield. Open to everyone, so please read below!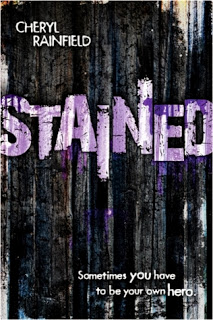 copy for review, but all opinions are my own

purchase via the book depository– I'm an affiliate

Official Summary: Sixteen-year-old Sarah Meadows longs for "normal." Born with a port wine stain covering half her face, all her life she's been plagued by stares, giggles, bullying, and disgust. But when she's abducted on the way home from school, Sarah is forced to uncover the courage she never knew she had, become a hero rather than a victim, and learn to look beyond her face to find the beauty and strength she has inside. It's that—or succumb to a killer.
Review: I've been hearing about Cheryl Rainfield for awhile now, but Stained is the first chance I've had to read one of her novels. I definitely want to check out her other titles now!
Stained is the story of a girl named Sarah who is used to being the outcast, being bullied. That doesn't mean she accepts it though. She's happy to stand up for others, but when it comes to herself, she wants treatments to change the way she looks so she can know what it's like to live life without the stares of pity, disgust, humor.
Everything starts to change when Sarah is kidnapped on her way home from school. Her ordeal is horrifying and sometimes difficult to read. There are aspects of a girl getting kidnapped that the author did touch on, which I appreciated. This includes a girl's period and show how she deals with it. I doubt I'm the only one who has thought of this when you hear about teen girls getting kidnapped for over a month. I think it just made the book seem even more realistic.
Sarah's time away from home is brutal, and she's physically, sexually, and mentally abused, but she always tries to keep hope. Her attacker wants her to think the worst of herself and believe that nobody truly loves her, but Sarah is desperate to keep her thoughts true, even though it is anything but easy.
One of the things I really liked about Stained is that the book is told in dual point of view, between Sarah and a boy she goes to school with, Nick. Nick loves Sarah and wants to do anything he can to make sure she comes home safe…so his point of view allows viewers to witness the pain her parents are going through, as well as the lengths to which they go to make sure nobody gives up on Sarah, especially as the months go by and people begin to suspect she may be dead.
I will admit that parts of Sarah's point of view can be repetitive. Obviously, there isn't much different that can happen as she's locked up, so it makes sense, but it's just something I thought I'd note. As the book gets closer to the conclusion, I found myself glued to the pages, wanting to know what will happen next. It's definitely an intense conclusion!
Stained is about the parts of you hidden, the layer beneath your skin that truly defines who you are and what you can do. It's intense, but not overly graphic. I would definitely say it's suitable for older teens on up though.
Giveaway!
Readers will get an extra entry into the grand prize of an ebook reader for every comment they leave on a blog in the tour (one extra entry per blog). Follow the tour here.
Enter Today- Open Internationally, but you must be 13 or older (or have parent permission). I have no control of these prizes once I submit the winner's name. ONE WINNER for all three books!
http://www.rafflecopter.com/rafl/display/887ee66/" rel="nofollow">a Rafflecopter giveaway