Hope You All Had a Wonderful Christmas!!
First off, I have some blog updates to share with you, and then another Modern Greetings honeymoon giveaway below.
As for the blog- thanks for allowing me to do the A to Z Gift Guide. I know there weren't as many reviews near the end, but I wanted to finish everything no later than Christmas. Now that I have, it's back to some more normal Shooting Stars Mag posts. In particular, some book and movie reviews that I've been waiting to post (as well as a couple author interviews).
I also wanted to let you know that in 2013, I want to mix up the types of books I review so it's not the same things you're seeing on other blogs. Basically, I won't accept as many titles so that I can read and review books that I was sent a long time ago, and yet somehow never got to, as well as focus on some more books that I personally bought or were gifted. What do you think?! Hopefullly it will make things a bit more exciting!
You can expect to find a new post or two up tomorrow!
And now…
Modern Greetings is hosting another fun second honeymoon giveaway! This time you need to use your tweeting skills!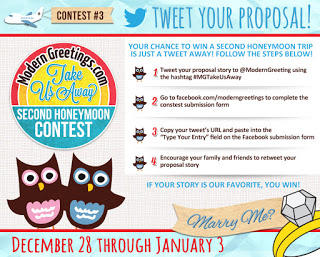 Tweet Your Proposal Contest. This contest will run Dec. 28th – Jan. 3rd.
Contestants just need to tweet to @moderngreeting (no "s" at the end of the twitter handle) about how their significant other proposed to them and hashtag it with #MGTakeUsAway, then they must go to the Modern Greetings facebook page and complete the submission form.
It's important to note that you MUST also fill out the submission form on MG's Facebook page to be eligible to win. MG will then pick their favorite proposal story tweet and the winner will be awarded the Second Honeymoon Trip to the destination of their choice.
MG is also asking you to encourage your friends and family to retweet your proposal story tweet to increase your odds.
(I was gifted a coupon code to the site for posting!)