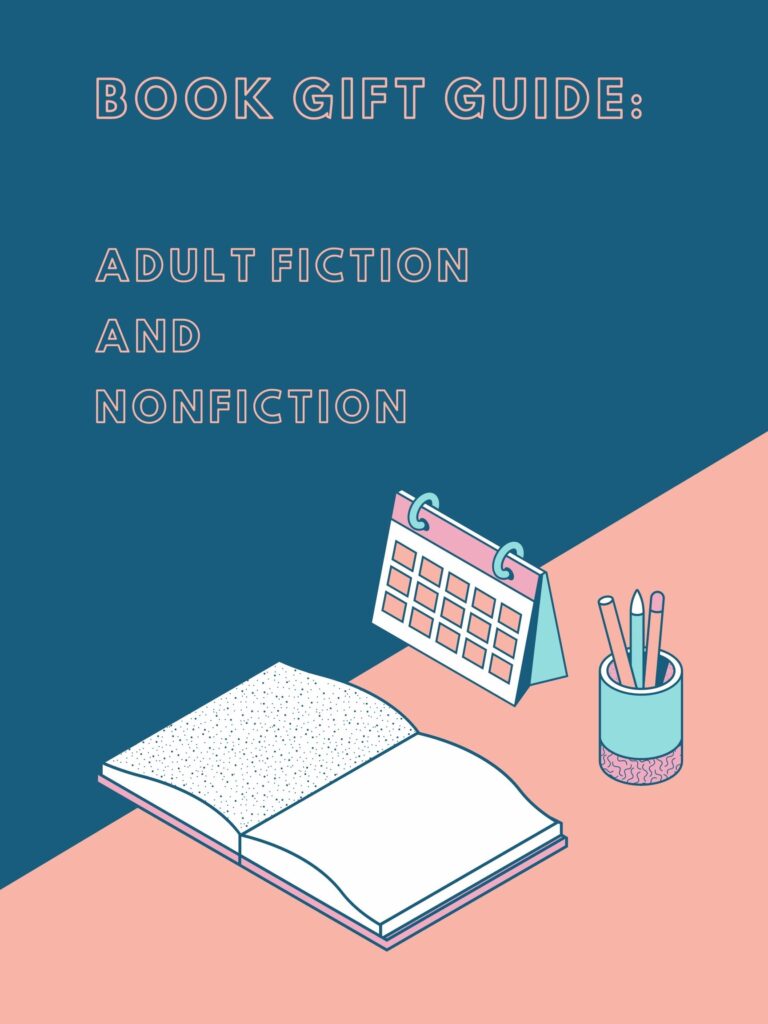 December starts this week, and I know that a lot of people have already begun their holiday shopping. Be sure to order as soon as you can so you aren't waiting on delayed packages. Shopping in store when you can is always a good idea too.
However, if you do shop for books online, check out Bookshop.org where you can support independent bookstores. I'm also an affiliate, so if you purchase from the below links, I get a small % at no extra cost to you! I'll have a few different book related gift guides to share this week, but today I'm focusing on Adult Fiction and Nonfiction.
Holiday Gift Guide: Adult Fiction and Nonfiction
I haven't read all of these, but they're all books I think people might enjoy so I wanted to share them! I'm also going to break down most of the books into categories, just for fun, and it might make it easier to find that perfect book for yourself or loved one!
White Wedding
Fictional Books All About Weddings
The Secret Bridesmaid by Katy Birchall is one I read over the summer and LOVED.
The Wedding Ringer by Kerry Rea is a book I just won in an Instagram giveaway and I cannot wait to read it.
For The Love of Friends by Sara Goodman Confino was an enjoyable read, and it includes a MC who creates a blog about all the weddings she's in!
 Show Your Pride
LGBT+ Adult Fiction

The Charm Offensive by Alison Cochrun was a fantastic debut with great mental health rep.
A Marvelous Light by Freya Marske is on my wish list, but I've been reading some great reviews.

Playing the Palace by Paul Rudnick wasn't a 5 star read, but it was still really fun, and I'd recommend to the right reader.

One Last Stop by Casey McQuiston had a fun premise, and I loved the two leading ladies.

Docile by K. M. Szpara is not for everyone, but it was SO GOOD!
 Can You Guess?
Mysteries and Thrillers

Marion Lane and the Midnight Murder by T.A. Willberg is a historical mystery that I highly enjoyed.

Killer Content by Olivia Blacke is a bit of a millennial cozy mystery, and the first in a new series. The second book is out now and I need it!

Lies We Bury by Elle Marr was a really intriguing mystery with a twist I didn't see coming! This was a book club pick for me this year and it was fun discussing with others.

Meet Your Baker by Ellie Alexander is the first in a cozy mystery series that takes place around a bakery. So good, and I have the second book ready to go!

Murderabilia by Carl Vonderau is a book I don't see around, but it's such a good serial killer mystery. I recommend!

Never Saw Me Coming by Vera Kurian is so good, and I love that it follows a female psychopath and possible future killer.

Tiny Nightmares: Very Short Stories of Horror is on my wish list, and I think it would make such a good stocking stuffer idea for mystery/horror fans!
Nifty Nonfiction
Nonfiction Recommendations 

Chase Darkness With Me by Billy Jensen is one I've been recommending all year. If you, or someone you know, loved I'll Be Gone in the Dark – then you must read this one next!

The Perfect Father: The True Story of Chris Watts, His All-American Family, and a Shocking Murder by John Glatt is a must-read for true crime fans.

Raising Ollie: How My Nonbinary Art-Nerd Kid Changed (Nearly) Everything I Know by Tom Rademacher is on my wish list. I think this would be a great book for teachers or parents.

Tell Me Who You Are: A Road Map for Cultivating Racial Literacy is on my wish list. I think this sounds like something all of us could read right now.
One Day: The Extraordinary Story of an Ordinary 24 Hours in America is the perfect book to read between Christmas and New Year's Eve as it focuses on a single day – December 28, 1986. This is another book on my own wish list.

One Day at Disney: Meet the People Who Make the Magic Across the Globe is on my own wish list, and it would be perfect for any Disney fan. I have this on the Adult list, but obviously it works for younger readers too.

Best Wishes, Warmest Regards: The Story of Schitt's Creek is obviously a must-read for any Schitt's Creek fan, and I have this on my own wish list.
Out of This World
All the Fantasy Books
The following books are all ones on my own wish list; I haven't read them yet, but I want to!
And that's it for my first bookish gift guide. What age levels, or genres, would you like to see next?