Break the Silence (at Home) with a Book
guest post by author Kim Oclon (Man Up)
As a former GSA sponsor, I miss the Day of Silence tributes the high school hosted each year. Some were more successful than others. My favorite was when we sold these rainbow bracelets for a quarter to signify one's involvement in the day. Every year, after school, we'd circle around the flagpole in the faculty parking lot to scream our heads off as other students walked by or got on buses. This year, though, there won't be any Day of Silence events at high schools around the country so what better way to be silent than read a book?
Starting with John Donovan's I'll Get There. It Better be Worth the Trip in 1969 all the way to now, readers have hundreds of novels to choose from that feature LGBTQ characters. I remember hearing an author speak at a conference almost five years ago in which he shared that when his debut novel was first sent out to publishers, he actually got feedback suggesting he make the main character straight instead of gay. Imagine the Twitter storm that would have erupted (rightfully so) if that kind of feedback were given today.
Despite the increased representation in novels, films, and TV shows, there are too many kids who are bullied harassed, and discriminated against because of their sexuality and gender identity. In honor of the Day of Silence, I'd like to share three of my most beloved books that break the silence.
Two Boys Kissing by David Levithan
The narrator of this novel is a Greek chorus of gay men who died of AIDS in the 1980's who desperately want to share their experiences and feelings with several LGBTQ kids who are in various stages on their journey to self-discovery acceptance. The various narratives unfold as Harry and Craig attempt to break the Guinness Book of World Records for the longest kiss. The passion of the narrator combined with the community that rallies around the boys kissing at their school's flagpole is a perfect read for this Day of Silence.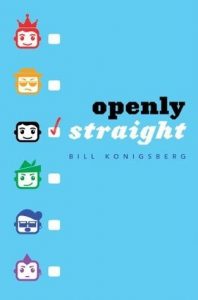 Openly Straight by Bill Konigsberg
I might be a little biased in this suggestion. Bill Konigsberg is one of my favorite authors and it all started with this book. Openly Straight follows Rafe from his life in Colorado with a mom who is president of the local PFLAG chapter, to a boarding school in New England (think Dead Poets Society), where all he wants to do is NOT be known as "the gay kid." Rafe decides he's not going to tell anyone despite being out and proud back home. It's an interesting reversal and explores the theme of our world's needs to label people as one thing or another that Konigsberg explores so well in each of his novels. Rafe chooses to be silent for different reasons, but as you can probably guess, he doesn't stay that way.
Robin's Talley's three most recent novels remind our world that just because the representation of LGBTQ people seems relatively new, struggles with sexuality and gender identity is not. Pulp is a novel that features a present day timeline and one from 1955 where two girls discover their feelings for one another during the Lavender Scare. This book breaks the long held silence of LGBTQ teens that lived decades ago. Robin Talley's novels serve as a reminder of where we started, how far we've come, and how we're still dealing with many of the issues that forces some kids to remain silent.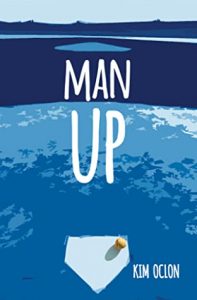 This is by no means a comprehensive list of all the amazing work being done by so many others. These are a few that came to mind when compiling a list of books that might be good to visit on the Day of Silence. If none of these novels suit your fancy, perhaps check out my debut young adult novel, Man Up. It features a gay baseball player whose main goal is to get through his last few months of high school without anyone finding out about his secret boyfriend. Just a suggestion.
I hope next year schools across the nation can resume their observations of the Day of Silence, but until then, perhaps find some camaraderie in the pages of a book. And when you get to the end of the book or at the point where you feel the silence is broken, go outside, take a deep breath and scream as loud as you can.
Thank you so much to Kim Oclon for writing this guest post in honor of Day of Silence. Check out her website or follow her on Twitter! 
Break the Silence (at Home) With a Book - guest post from author Kim Oclon #ontheblog #dayofsilence #lgbtq
Click To Tweet