The Doll's House by M.J. Arlidge


Review by Lauren


source: personal copy; all opinions are my own


Official Summary: A young woman wakes up in a cold, dark cellar, with no idea how she got there or who her kidnapper is. So begins her terrible nightmare.

Nearby, the body of another young woman is discovered buried on a remote beach. But the dead girl was never reported missing – her estranged family having received regular texts from her over the years. Someone has been keeping her alive from beyond the grave.

For Detective Inspector Helen Grace it's chilling evidence that she's searching for a monster who is not just twisted but also clever and resourceful – a predator who's killed before.

And as Helen struggles to understand the killer's motivation, she begins to realize that she's in a desperate race against time . . .


Review: I don't read a lot of series because I find I don't keep up with them, but I'm trying to do my best to read these as soon as I can as it's seriously one of my favorites series. These novels are just so good if you love a great mystery/thriller. The Doll's House is the third book in the Helen Grace series, and each title is based off a nursery rhyme of sorts (the first was Eeny Meeny, the second Pop Goes the Weasel, and the fourth one out now is called Liar Liar). This is a series based in the UK, so they get the book's releases earlier than the U.S. Regardless, I'm doing my best to keep up!
When it comes to these series, I love how it follows not just Helen Grace but other important people in the book so you get a wider view of things. You follow other police officers, you get the victims (especially the girl being kept in the 'doll's house' in this one) and even the criminal! The latter's point of view is usually creepy, yet really fascinating. It's nice to get a look into their mind on why they do the things they do. For this criminal, why is kidnapping women and keeping them locked in a underground basement of sorts? Why is keeping them "alive" by using their phones to randomly tweet or text a family member? What does he gain from this and how can he keep his identity secret after all these years?
The Doll's House is just another exciting mystery in the series. I never quite know what's happening and it's intriguing to go along on the case with the police officers. I also love getting to know more and more about our detective, Helen Grace, and what motivates her, as well as how she does her job after experiencing so many serial killers and other 'bad guys' in her career!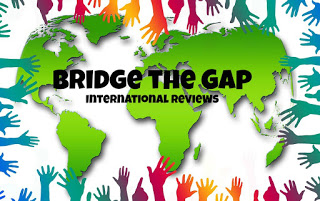 Since I live in the U.S, a Bridge the Gap book for me would be one where the author is NOT from my own country. This counts as Arlidge is a British author and sets his series in the U.K.