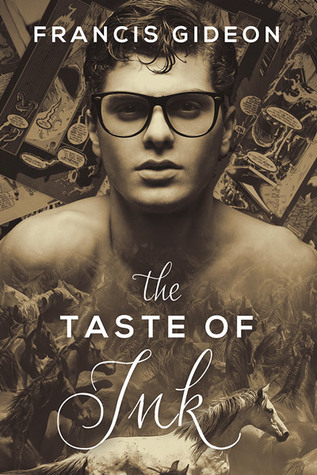 The Taste of Ink by Francis Gideon


Review by Lauren


source: copy from publisher; all opinions are my own


Official Summary: Trevor Dunn has never gone to the Calgary Stampede, in spite of living in the city all his life. He would much rather listen to music and draw comics in his basement than hang out with a bunch of cowboys. When his sister drags him to the Stampede's opening parade anyway, Trevor is drawn to a cowboy sporting a green hat.

Charlie opens Trevor's mind to the world of country music and country boys. But then an old flame appears in the middle of the festival and Trevor is torn. He adores Charlie, but Mathieu—a punk singer turned acoustic crooner—was Trevor's first love, and Trevor lost him by being too afraid to chase the dreams they shared.

When the Stampede ends, Charlie will go back to Toronto, Mathieu will go back on tour, and Trevor will go back to his basement. Realizing that's not what he wants, Trevor enters a mechanical bull-riding contest in hopes of winning the heart of his true love—or maybe both of them. This time, fear won't stop him from going after what he wants.


Review: First off, I love the publishing company Dreamspinner Press. They publish some really great m/m fiction. However, that doesn't mean everything they put out there is right for me. The Taste of Ink is one of those books. It had a lot of promise and I liked the characters overall, especially Trevor Dunn, because he's someone who normally stays inside working on his comics instead of going out. It was easy to relate to him. His sister gets him out of the house though for the Calgary Stampede and he ends up meeting Charlie, who shows Trevor the world outside his bedroom. Of course, there is plenty of time inside a bedroom. This is a romance after all.
To be honest though, the book went in a direction that I didn't expect and it just didn't work for me. I don't want to spoil things. If you really want to know, just ask me! Otherwise, you'll see how it goes if you do decide to read this one. I rated it 3 stars on Goodreads (I don't always rate books, but you never know…) and that was mostly because it's not an awful book, but it wasn't the best and it personally didn't work that well for me. I'd be curious to check out something else by the author though!
Music Pick-
Based on the title, I immediately thought of the song "The Taste of Ink" by The Used. I looked up the lyrics to remind myself of them and realized that they do fit really well, especially if you look at the song from Trevor's point of view. What do you think? I've included a video with the lyrics, instead of the actual music video, so you can really hear what the song is about!
I live in the United States, which means any author who isn't from the U.S. counts toward Bridge the Gap. Francis Gideon lives in Canada, and this is where the book takes place! If you read a book by an author NOT from your country, feel free to use the photo above and link back to my blog!