Well, I'm just making it but I'm finally sharing some of the fun gifts that I got this past Christmas for my Unwrapped! link-up. Did you make a post sharing the fun things you got for the holidays? Feel free to link up while it's open, or leave a link in the comments below and I'll come visit you!
Let's start with this little pink penguin! It's so cute- and soft! My sister gave me this. She also bought tickets for me and her to see a Cincinnati Cyclones game (local hockey team) and we went this past Saturday – more on that tomorrow!
My sister also gave me these cute day of the week socks. I have all seven, but the above photo shows you Thursday and Friday! Finally, she got me a gift card to a local restaurant we both love called Taste of Belgium – we still need to go!
My mom and dad gave me quite a few fun Christmas gifts, so I'll just share some here. I got this awesome messy bun beanie (your bun or ponytail can stick out of the hole on top so you don't have to keep your hair down to wear the hat). I really wanted one of these, so I'm so excited about it. Isn't it cute?
I'm actually wearing one of the brown invisibobbles in my hair in the above photo. These are awesome!
I'm a huge fan of Garth Brooks so I got the Garth Brooks: The Anthology Part 1 and I must read it soon! I'm so excited to add this to my Garth collection.
Another amazing gift I got was this book light. As you can see in the above photo, it looks a bit like a book when it's closed (well, maybe you can't tell too much here – but believe me!)
To use the light, open the book and connect the back and front (it's a magnet) and voila! Your open book is actually a book light. I love this so much! And in case you're wondering, there is a plug and a way to charge it!
Finally, I got this Too Faced eyeshadow kit. I'm not the biggest makeup person, but I was dying to get this, and I have to thank my parents for gifting it to me for Christmas.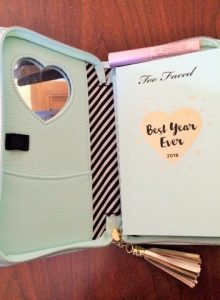 You open up the little clutch and there is a small mirror, a tube of Better Than Sex Mascara, and the Best Year Ever eyeshadow palette.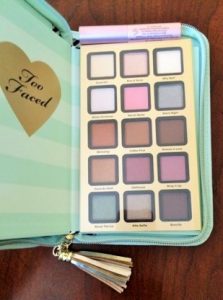 Open up the palette and see all the pretty colors!! I'm so excited to experiment with this!
One of the things that I just LOVED about this kit is that there is a mini 2018 planner in the clutch, so you have your planner and your makeup with you at all times. It even comes with a page of cute stickers you can use!
I love all the little facts and holidays pinpointed in the planner. If you've been reading my blog, you know I have multiple planners already so I haven't started using this one yet, but I WILL figure out some way to utilize it since it's just so cute.
***
Unwrapped: Christmas 2017 Gift Haul - want to see what I got this holiday? #ontheblog
Click To Tweet
And there you have it! Just some of the awesome gifts that I was given this Christmas. I also got some chocolate, sparkling grape juice, Old Navy gift card, Star Wars shirt, movie theater gift card, lotion, and more. I'm lucky to have some great people in my life. Now, if you're interested in some of the items I mentioned above (and other things that I got for Christmas), please use the widget below to learn more. Not all are the exact items I got, but I wanted to show some variety! Affiliate links: any clicks or purchases give me a small percent!