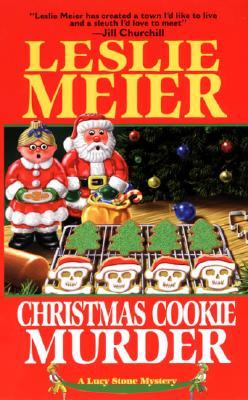 Christmas Cookie Murder by Leslie Meier
Review by Lauren
Source: e-library copy; all opinions are my own
Official Summary (add to Goodreads): For Lucy Stone, the best thing about Christmas in Tinker's Cove has always been the annual Cookie Exchange. But the usual generosity and goodwill is missing from this year's event which turns out to be a complete disaster.
Petty rivalries and feuds that have long been simmering finally come to a boil, leaving a bad taste in the mouths of many guests, including Lee Cummings who accuses Tucker Whitney of stealing her recipe for low-fat, sugar-free cookies. But the icing on the cake is when Tucker is found strangled in her apartment on the following morning.
Who could've wanted Tucker dead badly enough to kill her? Despite all of the ingredients for danger, Lucy sets out on the trail of a murderer and soon uncovers a Christmas secret best left wrapped.
Review: Christmas Cookie Murder is the sixth in the Lucy Stone cozy mystery series. I've read a few of these books, though never in any sort of order. They aren't always the best written, but I think the mysteries are usually really well done (I don't tend to guess the culprit, at least) and I like that they always revolve around a holiday or event.
Christmas Cookie Murder was a good mystery – again, I didn't guess the culprit at all, though I knew the person the cops had arrested couldn't possibly have done it! Since these books take place in a small town, there is always a lot of secondary characters. It can be hard to keep track of everyone, but I like these aspects of the story. It certainly helps make the books cozy. Christmas Cookie Murder has a lot of drama as the ladies in the town try to one-up each other with their children's achievements, and sometimes even their own. There is even drama surrounding the soon-to-be-killed, Tucker, who works at the local daycare center.
This was a fun, quick read, and I would recommend the series if you're looking for quick cozy reads that give equal time to characterization and suspense/mystery.