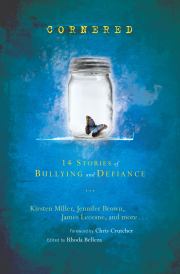 Cornered: 14 Stories of Bullying and Defiance

Edited by Rhoda Belleza

Review by Lauren

copy sent for review, but all opinions are my own
It does not necessarily take a fist to create a punch in the gut. This
fourteen-story YA fiction anthology delves into the experience of being
bullied—socially, emotionally, physically, psychologically, and sexually. The
school hallways, walks home, and house walls are no longer the boundaries for
intimidation and harassment. With the rapid-fire response time of social media
and smartphones, bullying has lost all limits, and the lines among truth, lies,
and real accountability have become blurred.
Featuring some of the hottest voices in YA literature, both bestselling and on
the rise, Cornered includes works from Kirsten Miller (New York
Times bestseller The Eternal Ones), Jennifer Brown (Hate
List), Elizabeth Miles (Fury), Jaime Adoff (The Death of Jayson
Porter), Lish McBride (Morris Award finalist Hold Me Closer,
Necromancer), Matthue Roth (Losers), Sheba Karim (Skunk Girl),
Kate Ellison (Butterfly Clues), Zeta Elliot (A Wish After
Midnight), Josh Berk (The Dark Days of Hamburger Halpin), and James
Lecesne (Absolute Brightness and founder of the Trevor Project).
Review: My mistake in reading these short stories was forgetting the full title: Bullying AND Defiance. I got a bit confused when I reached a story that had nothing to do with bullying. It threw me off for a moment, but not in any way that changed my opinion of the book overall. As for that, I really enjoyed this book, and it's kind of one of those books that it's hard to imagine enjoying, since so many of the stories are upsetting in some way. That doesn't mean it ever felt hopeless though.
I also really enjoyed having short stories. You get to jump into a world for a bit and then go on to the next. It's nice to get a variety of styles in one book too, and I found some authors that I'm curious to read more by, which is also really good. The one complaint about this book (and short stories in general sometimes) is that I wanted more from some of these. I really would have liked a few of these concepts to go beyond and fill up an entire book all on their own.
Since there are 14 stories in all, there is no way I can talk about all of them so I'm going to simply go through a few of the ones that I really enjoyed. Hopefully this will give you a broader look into this great collection of stories! Also, I think it's important to know that there all sorts of stories in this book…meaning, they aren't all realistic. You get some fantasy, paranormal, etc. thrown in here and there too!
Nemesis by Kirsten Miller was the first story in the book and it was also one that I wanted to be an entire novel, because the concept is just so interesting. The narrator seeks to find justice for bullied kids because they know what it's like to not fit in. I don't want to give too much away, but it really is an emotional story that gives you new perspectives on the bullied and the bullies.
The Shift Sticks by Josh Berk is great because it's all about a guy that wasn't the biggest bully, but he did go along with the crowd…and it shows what happens when he runs into the girl he used to help torment years later.
Sweet Sixteen by Zetta Elliott was one surprising story. The main girl sells sex for money, and the girl she meets in custody was just taken away from a cult. Both of them are young and yet have warped views on their own power and sexuality. It's a sad story, and the ending wasn't the most hopeful of the bunch…yet it was still realistic.
How Auto-Tune Saved My Life by Brendan Halpin was kind of an amusing story. It was one about bullying, and the bully is actually a teacher which makes it very unique, yet it still showed the lighter and better side of life.
But Not Forgotten by Jennifer Brown and Still Not Dead by James Lecesne both deal with committing and wanting to commit suicide and how getting to that point affects a person. They were very good stories; emotional, powerful, and highly recommended.
And finally (yeah, I kind of talked about a lot of stories, so I apologize) we have We Should Get Jerseys 'Cause We Make a Good Team by Lish McBride which was actually the last story in the entire book and funnily enough, this book ends like it began for me…with a story that I wished was longer and I'm definitely curious to check out more by this author!