Happy Thanksgiving Eve, to those in the U.S. I know it's a weird year for holidays, but to bring a smile to your face – I have another giveaway in my stocking stuffer series!!!
Please pin this image below, to help me spread the word!
Custom Love Gifts – visit Lindsay's shop for the cutest little favors! 
Custom Love Gifts has some really fun gifts and favors for parties, co-workers, weddings, and more. I love that you can help personalize her mini mason jar favors with ribbon and labels (for an extra price).
You have to make an order of at least 12 jars, but the prices don't break the bank, so it's a great way to "bulk gift" if you will. Hand these out to all your co-workers, get one for everyone in the family to enjoy, or have them on hand as little tokens of appreciation for friends, teachers, babysitters, etc.
One of the things that I love is that you have a long list of options for your mason jars – it's not just honey! Personally, I think maple syrup would be fun for the holiday season – or any of the jams!
Maybe you want to give just one person a gift – these Mini Pancake or Biscuit Mixes are adorable! It's only $5.50, with free U.S. shipping! This would be a lovely party favor, Secret Santa gift, or something for your parents/in-laws if they enjoy cooking!
There's one other item that I wanted to feature for you all today, and it actually ties into the giveaway, so let's learn more-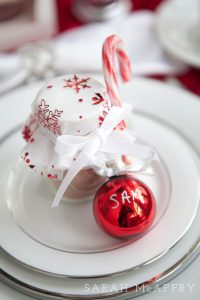 These Mini Hot Cocoa Mugs are absolutely adorable! You can buy each one for $5.00 and $3 U.S. shipping.
From the Etsy Site: Each mini Hot Cocoa Mug includes hot chocolate mix and marshmallows. Makes 2 servings of hot chocolate. Includes holiday fabric topper and ribbon. Candy cane and ornament not included.
Each mug is 4 oz in size and can be re-used as a salt and pepper shaker or spice shaker.
How adorable is this? Now is your time to win some for yourself – and whoever you wish to gift them to this year!
Giveaway Time!
1 U.S. winner gets SIX Mini Hot Cocoa Mugs
Giveaway ends on Wednesday, December 2 at 11:59 p.m. EST
we are not responsible for lost or damaged items once they've been shipped
18+ to enter, or have parental consent
If you buy anything from the shop, let me know! I'm always curious what catches everyone's eye!