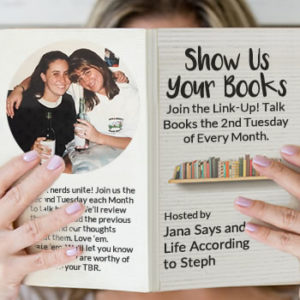 It's crazy that it's already the second Tuesday of the month, but it is, and that means it's time for Show Us Your Books (with Steph and Jana)! Last month I mentioned that I was reading a bunch of YA fiction for the Cybil's Awards but I couldn't share my thoughts because the winner hadn't been announced. Well, it's all over now, so today, I'm going to share those books!
Cybil's Book Awards Nominees: YA Fiction
shop links are affiliate links

The Girls I've Been by Tess Sharpe
I really loved this one, and it easily got 5 stars from me. Nora grew up with a con artist mom, and so she learned to become one herself. Being able to escape and live with her older sister, it's not always easy for those traits to stay buried – especially when she ends up at a bank during a robbery. Loved the characters – even the secondary ones. I really liked the back and forth of Nora's past and the present moment. It's YA but mature YA, so look for trigger warnings.
The Girls I've Been won the YA Fiction Category for the Cybil's Awards

In the Wild Light by Jeff Zentner
In this one, Cash gets a once in a lifetime chance to leave his small hometown to attend a prestigious boarding school with his best friend, Delaney. This is the second book by Zentner I've read and he always gets the emotions- you're more than likely going to find yourself tearing up at some point! I was definitely rooting for Cash to move away and make a life for himself, but I also understood his wanting to stay behind with the family he knew (especially with his grandfather being very sick). An emotional, beautifully written book. 4 stars from me.

A Cuban Girl's Guide to Tea and Tomorrow by Laura Taylor Namey
Three kind of heartbreaking things happen to Lila around the same time, and she doesn't handle it well. Afraid for her mental health, her parents send her to England to stay at a bed & breakfast run by her aunt. I loved how close Lila's family was, and while she might have been mad at them at first, they always had her back. It was nice reading about an area of England that wasn't London. I loved Orion, and I really felt for all he'd gone through too. I don't think the book necessarily needed a romance, but you kind of know that's the way the story will go. I gave this one 4 stars on Goodreads but it was a mix of 3.5 and 4 stars.

The Firekeeper's Daughter by Angeline Boulley
Almost everyone seems to love this one. I really did enjoy it, but it wasn't my most favorite. I appreciated the Native American culture and it's just one example of needing more diverse books out there. I felt like the book was more NA or Adult than YA. After all, Daunis is 18 and in college, and while she lives with her mom, she can work with the FBI without parental permission. This and other topics made it feel like an older book, which isn't a bad thing!
I really liked the overall mystery, and I definitely felt for the loss that Daunis experienced that made her want to help the FBI in the first place. I think it could have done without a romance subplot, and I think it went a bit longer than it needed to. However, in the end, I was surprised by the mystery and I definitely would recommend to those interested. A solid 4 stars from me.

Last Night at the Telegraph Club by Malinda Lo
This was a book I'd been really excited to read, so I was excited to see it was a nomination. This sapphic romance follows two teen girls in 1950's San Francisco. The POV is from Lily Hu as she becomes friends with a white girl in her school that she never really paid much attention to before, Kathleen Miller. As the two grow closer, they find themselves visiting the Telegraph Club to see women – dressed as men – perform. It's not a good time for two girls to be falling for each other. It's definitely not a good time for one of them to be Chinese-American, with the threat of deportation still around. I loved seeing Lily grow into herself, though my heart broke for what she had to deal with. I gave this one 5 stars, and I highly recommend!

Concrete Rose by Angie Thomas
Let me be honest – I haven't read The Hate U Give yet. However, now that I've read Concrete Rose, I think it's an even better time that I read it. Concrete Rose is about 17 year old Maverick Carter – aka the dad of Starr in The Hate U Give. It was interesting following his journey from teenage gang member to young father. He doesn't always make the best decisions, but I loved that he had people around him that shared wisdom and made him see that there was a different path for him – he didn't have to end up in jail like his own dad. Concrete Rose does a great job showing that men – especially black men – are allowed to have emotions, and they are allowed to show them. So many people around Maverick grab a gun when someone they love is murdered, but what about just mourning the person they lost? I gave this one 4 stars.

Why We Fly by Kimberly Jones and Gilly Segal
Two best friends, Eleanor and Chanel, are on a high school cheerleading team. Things are starting to crack between the two of them, but when a former alumnae of theirs gets flack for kneeling during a football game, the cheer team decides they are going to take a knee too. It has consequences they don't expect, and not always for all of them. Why We Fly takes the topic of kneeling during the national anthem to the YA stage. I wish it had a bigger focus, as I felt like so much of the book was simply about the girls growing up and growing apart. There's nothing wrong with that, but I would have liked the kneeling aspect to have had more page time if you will. There is some discussion about how it affects people differently – based on your race, and I did appreciate it, but it never really went too far in-depth. At any rate, it's a good read. I gave this one 3 stars.
***
And there you have it; all my personal thoughts on the YA Fiction nominees for the Cybil's Awards. And again, congrats to The Girls I've Been by Tess Sharpe for winning!