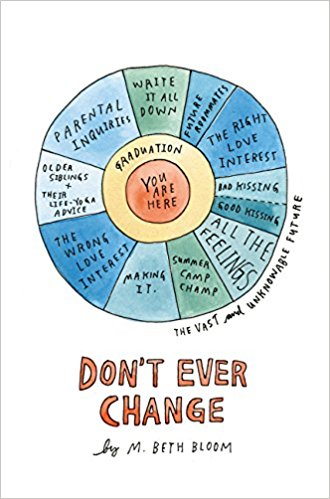 Don't Ever Change by M. Beth Bloom


Review by Lauren


Source: copy sent for review; all opinions are my own


Official Summary: Eva has always wanted to write a modern classic—one that actually
appeals to her generation. The only problem is that she has realized she
can't "write what she knows" because she hasn't yet begun to live. So
before heading off to college, Eva is determined to get a life worth
writing about.
Soon Eva's life encounters a few unexpected plot
twists. She becomes a counselor at a nearby summer camp—a job she is
completely unqualified for. She starts growing apart from her best
friends before they've even left for school. And most surprising of all,
she begins to fall for the last guy she would have ever imagined. But
no matter the roadblocks, or writer's blocks, it is all up to Eva to
figure out how she wants this chapter in her story to end.
Review: I do really like books where the main character writes, just because I want to publish a book some day and I can relate to that aspect. Eva has various story and play ideas throughout the book and more than once, I'd stop and go "I'd read that!" which is both a good and bad thing. Good because Eva has some intriguing ideas, but bad because I can't actually read them unless Bloom decides to write them!
There are aspects of Eva's character that can be annoying. She's not always aware of other people, but at the same time, she's someone you can relate to in many ways. For one, she has difficulty with her two best friends over the summer. They are all starting to grow apart, make new friends, and generally aren't with each other 24/7. Eva has trouble with this and her friends aren't always the nicest about it. Yes, her friends have legitimate complaints about Eva, but I think she had reason to complain about them too.
I also think the whole idea of trying to experience life, for whatever reason, is something that people can relate to as well. Eva thinks in terms of writing a story, but we're all creating our own autobiography as we live, right? I think most people around Eva's age are trying new things and really figure out who they are, so that aspect comes across well. I also really liked Eva's job at camp. It was fun getting to know the little girls she worked with and how Eva learned a lot about her own personality and strengths helping them.
One thing that was a bit annoying were all the guys in Eva's life. There are essentially three guys she goes out with throughout the book and that she could end up with. There is only one I really like. It's not that she's dating a lot or anything like that, but as someone who never thought people liked her, it's weird for me to read about teenage girls who have all these guys willing to be with them.
Anyway, Don't Ever Change is a good book. There are some moments/circumstances that felt left undone, which is a bit annoying, but overall, this was a quick, fun read!