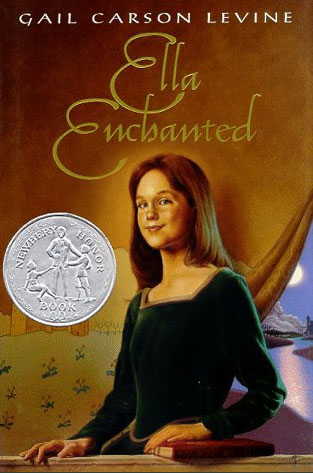 Ella Enchanted by Gail Carson Levine


Review by Lauren


Source: library copy; all opinions are my own


Official Summary: At birth, Ella is
inadvertently cursed by an imprudent young fairy named Lucinda, who
bestows on her the "gift" of obedience. Anything anyone tells her to do,
Ella must obey. Another girl might have been cowed by this affliction,
but not feisty Ella: "Instead of making me docile, Lucinda's curse made a
rebel of me. Or perhaps I was that way naturally." When her beloved
mother dies, leaving her in the care of a mostly absent and avaricious
father, and later, a loathsome stepmother and two treacherous
stepsisters, Ella's life and well-being seem to be in grave peril. But
her intelligence and saucy nature keep her in good stead as she sets out
on a quest for freedom and self-discovery as she tries to track down
Lucinda to undo the curse, fending off ogres, befriending elves, and
falling in love with a prince along the way.
Review: I read Ella Enchanted for my children's literature course when we focused on fairy tales. Levine's novel is a different take on the Cinderella story. While there are many similarities between this book and the Cinderella you know from the Disney version, Ella is more feisty and capable of taking care of herself. She does eventually fall for a prince but they do get to know each other beforehand. They see the good and bad within each other.
Ella's circumstances are not fun. She is cursed her whole life with obedience, meaning she must do whatever people tell her to do. Most are not aware of the curse, but when the knowledge enters the wrong hands, it adds even more trouble to Ella's life. More than anything she wants to find Lucinda, the fairy who cursed her, so that she can gain control of her life instead of being pushed around by her absent father and new step-family.
This book is full of magical creatures, curses, fairies, and ultimately, the blessing of true love. Levine has created a version of Cinderella that truly celebrates being true to oneself.