Exquisite Corpse by Penelope Bagieu


Review by Lauren


Source: copy for review; all opinions are my own


Official Summary: Zoe isn't exactly the intellectual type,
which is why she doesn't recognize world-famous author Thomas Rocher
when she stumbles into his apartment . . . and into his life.
Zoe
doesn't know Balzac from Batman, but she's going to have to wise up fast
. . . because Rocher has a terrible secret, and now Zoe is sitting on
the literary scandal of the century.
Review: Exquisite Corpse was written and illustrated by French author Penelope Bagieu and I'm very excited that it was translated into English because this is a really fun story! First off, I should mention that this is for older readers are there are some adult illustrations and moments. It's nothing too overly graphic or annoying though, so don't let that deter you from reading this if you are interested.
As for the story, this is about a girl named Zoe who hates her job, has a really awful boyfriend, and doesn't have that many aspirations for the future. When she meets author Thomas Rocher, she thinks she has it made as he's sweet to her and gives her a place to hide away from the world. It isn't long until Zoe realizes that Thomas might be hiding from something in particular, though, as he is never willing to leave his apartment.
When I first started reading this, I thought it was one type of novel (for whatever reason) so I was really surprised and excited by the twists and turns in this one. It's definitely a short, but satisfying, graphic novel.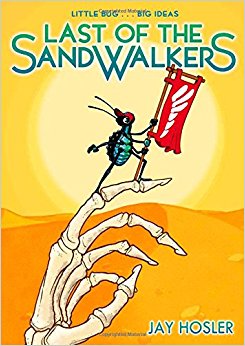 Last of the Sandwalkers by Jay Hosler


Review by Lauren


Source: copy for review; all opinions are my own


Official Summary: Nestled in the grass under the big palm tree by the edge of the
desert there is an entire civilization–a civilization of beetles. In
this bug's paradise, beetles write books, run restaurants, and even do
scientific research. But not too much scientific research is allowed by
the powerful elders, who guard a terrible secret about the world outside
the shadow of the palm tree.
Lucy is not one to quietly
cooperate, however. This tiny field scientist defies the law of her safe
but authoritarian home and leads a team of researchers out into the
desert. Their mission is to discover something about the greater
world…but what lies in wait for them is going to change everything
Lucy thought she knew.
Beetles are not the only living creatures in the world.
Review: You can definitely tell that Hosler is a biology professor. This is a book that I could really see lovers of science enjoying, especially younger boys, as it follows a group of beetles (led by Lucy) who enter the desert outside their home to see if anything else exists. Obviously, they find quite a few other animals and species that widen their minds about what their world actually includes.
I loved the reasoning behind why the elders do not want the beetles to know much about the outside world, and you learn bits of this as the book goes on. What I didn't really enjoy were the spiders in the book. They appear randomly throughout, and I'm someone who is freaked out by photos. The drawings weren't too bad, and everything is in black and white, so that helped make it seem less realistic too. Besides that, Hosler does a great job depicting the bugs and landscapes. Since it is all in black and white, sometimes it can be difficult to pinpoint all the characters, but overall, very well done.
This wasn't the best fit for me, as I'm not that interested in science and the like, but it was still interesting nonetheless. You learn a lot of cool facts within the story, so this would be a great literary addition to science classes! Plus, the book ends with annotations that breaks down all the chapters by page number when the author has extra facts/information he wants to share!