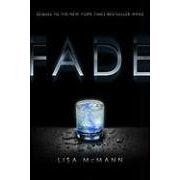 Fade by Lisa McMann
Review by Lauren

Janie, Cabel, and the Captain are back solving crimes in this sequel to the bestseller Wake. Cabel is used to going undercover to seek out the truth, but with Janie on board with her skill of jumping into people's dreams, he's not so sure how he feels about any of it anymore. Janie is his. Janie is safe. But what if she isn't? What if the sexual predator they are trying to find among the teachers hurts Janie in their effort to save the school?
Though it is already being said all over the web, Fade is definitely a superb novel that outshines Wake. The first in any series is always the set-up of a story, and Wake was definitely a lot more then that, but Fade takes off from there and makes the reader beg for the third and final book to be in stores at the moment they turn the final page.
Fade is definitely creepier and more suspenseful, the romance has been taken up a notch as Janie and Cabel grow up and grow closer, and the writing is still just as fresh, realistic, and fast-paced as its predecessor. If you've yet to read Wake, all I can ask is "what are you waiting for?" and if you've gotten through that and don't have Fade yet, "get to the store…pronto!"
This is definitely a great series that feels real and keeps you reading. I'm just sad that the next novel, Gone, will be the final journey in Janie's story. After all, you learn so much about Janie and her abilities in Fade, it's hard to imagine it all coming to an end in the next novel, but I'm definitely anticipating its release a year from now! Really, that's my only complaint….why can't I have it now?