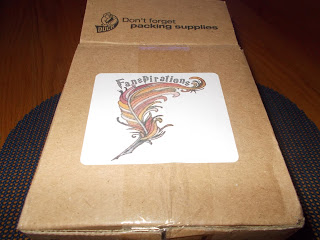 Fanspirations Review: Use my coupon code to get $4 off the first month: SHOOTINGSTARS


Review by Lauren


Source: I was given a discount code to help purchase a box for review; all opinions are my own


Review: I have a feeling this is going to be a lot of my reader's favorite subscription box – or one of them at least – because you get a box full of fandom goodies every month. Plus, YOU get to pick the fandom from a long list of possible choices (which I'll share below). As for me, I went with BBC Sherlock as my fandom choice because I'm dying for new episodes and I don't really have anything besides the DVDs to showcase my Sherlockian love.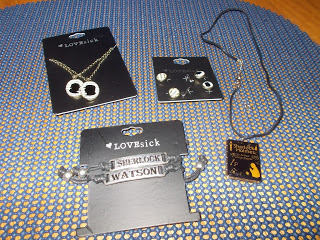 I got a lot of Sherlock themed jewelry which is fun. I'm not much for wearing jewelry, but I think I could change that a bit with some of this stuff because it's really showcasing my nerdy love. I've already worn the Sherlock Holmes book necklace (far right in the above picture) out and I think it's super cute. I also really like that you can open the book!
The two necklaces in the top left hand corner of the above photo are cool because they have silhouettes of Sherlock and Watson on them – you can wear them both, one at a time, or use them as best friend necklaces. You can do the same for the bracelets at the bottom of the photo. I tried these on and they are comfy on the wrist, which is a major thing for me, and I like that it's simple, yet it still shows your love of Sherlock.
Finally, there are the earrings (three different Sherlock-themed stud earrings). My ears aren't pierced, so my sister claimed these. They are so cute though! I would wear them if I could, but I know my sister will, so it's all good.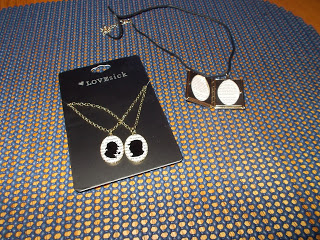 The above photo gives you a closer look at the Watson/Sherlock necklaces. As you can see, the background is a book. Pretty cool, huh? You can also see that the other necklace opens up and it also features some pages from Sherlock. This one is definitely my favorite because it honors the original novels and I just really like that it opens!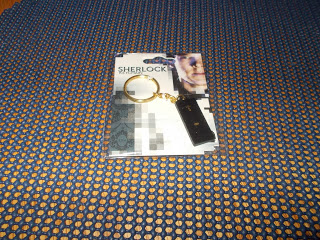 I also got this really cute 221B Door key chain which is really fun. It's already on my keys and a friend of mine even noticed it today (she's a Sherlock fan as well). For someone that doesn't do a ton of jewelry, I really liked this addition. I also received a t-shirt, which is great because I'm pretty obsessed with wearing t-shirts, especially of the nerdy variety.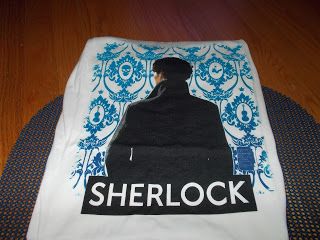 If you look closely at the blue decorations around Sherlock on this shirt you will see that there are some symbols that go along with the character, like the skull and the violin. I'm not normally a big fan of shirts that have actors themselves on it because it can be weird walking around with someone's face on your chest, but this one works well for me because it's the back of him. I haven't been able to wear this one yet, but it's super cute and I can't wait! Also, I will note that I chose the t-shirt size so I know it'll fit!


Now, let's talk about the various levels of subscriptions:
Perfect Deal is $13/month and includes 3-4 items
Favorite Deal is $30/month and includes 5-7 items (I chose this for my review!)
Best Deal is $50/month and includes 8-11 items
You can pay for your subscription month to month, but you can also do a 3 month, 6 month, and 12 month prepay. The prices are listed once you choose the deal you want.
One thing I really love (among many) about this subscription is that you can change your fandom EVERY MONTH; just make sure you log into your account and change it before the next shipment (I believe it's before the 20th of every month, otherwise your subscription will auto-renew with the previous month's fandom).
Finally, here is a list of the current Fandoms you can choose from every month. I went with Sherlock, but you have a lot of other options too:
Fanspirations – A mix of open themes
Potterhead
Whovian
Heroes – DC and Marvel
Demon Hunters (Supernatural)
Walker Stalker (Walking Dead)
Ice and Fire (Game of Thrones)
Demigods (Percy Jackson)
Ringheads (LOTR)
Bronies
Lockians
Anime
Tributes
Factions (Divergent)
I really love Fanspirations. I might try the cheaper subscription box ($13 a month) just so I can check out some of the other themes without breaking the bank each month. In particular, I really want to try out Potterhead, Whovian, Heroes, and maybe even Tributes. I know friends that would love Supernatural, Game of Thrones, and LOTR too!
What do you think? What fandom would you choose?