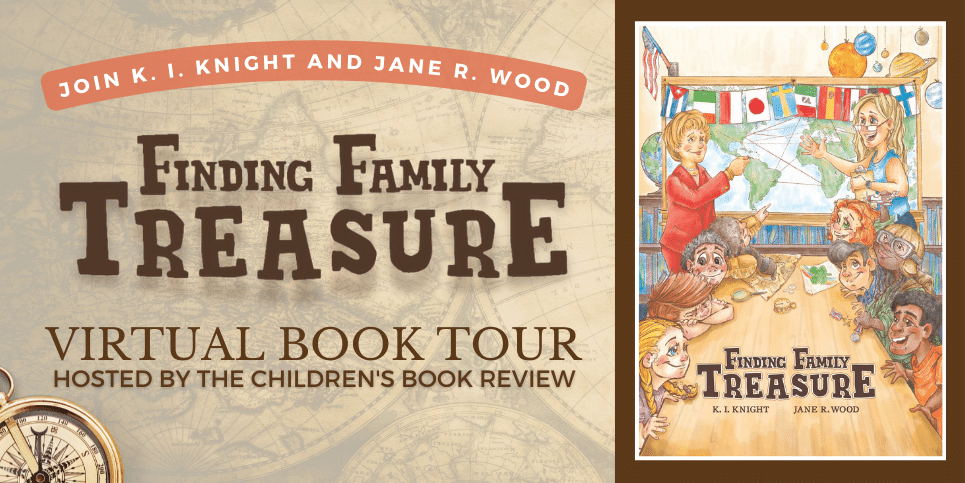 This post is part of a paid partnership with The Children's Book Review, K. I. Knight, and Jane R. Wood. Thank you for the opportunity to review Finding Family Treasure, and as always, all opinions are my own.
Book Review: Finding Family Treasure by K.I. Knight and Jane R. Wood
Finding Family Treasure is about a few kids whose teacher decides to assign them a Family History project. Mike, who is adopted, is starting to wonder about his biological family. Manuel, whose family is from Mexico, isn't terribly excited about the project at first as he's not a big reader – he'd rather a project he can do with his hands. Then, there's Robbie, who isn't really respectful about anyone's history.
I really liked that the teacher offered a different assignment if anyone's parents didn't want to take part in the Family History project. Obviously family history can be a touchy subject, and some families might want it kept private. It was a nice addition that I appreciated.
Robbie is pretty mean about the project, and toward those different from him. He doesn't want to do the project because he thinks his dad will be mad, not liking to talk about his family. When his mom finds out about the project, that starts to change, and Robbie becomes more interested in learning about his own history.
Finding Family Treasure deals with some tough moments in U.S and World history, as the kids in the class start looking into their family history. It definitely makes you curious about your own personal genealogy. The book also deals with some issues like racism, including Robbie and his father, but it also shows how the next generation can start to do better.
My one complaint is that some of the dialogue seemed a bit off for the children; kind of stilted, or phrased in a way that didn't feel realistic to a child's way of speaking.
Other than that, I enjoyed this one!
Giveaway Time!
Enter for a chance to win a copy of Finding Family Treasure, along with a 1-hour genealogy consultation!
One (1) grand prize winner receives:
An autographed copy of Finding Family Treasure
A 1-hour genealogy consultation with Kathryn Knight, a genetic genealogist, and co-author of this book. Knight will provide guidance to establish a genealogy line for the recipient's family, tailoring it to their needs.
Four (4) winners receive:
An autographed copy of Finding Family Treasure