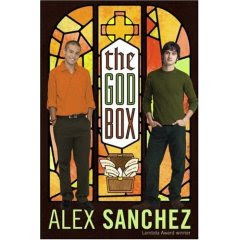 Alex Sanchez
www.alexsanchez.com
1. Since all of your books deal with GLBT characters, did that automatically go hand in hand with being an author for you?
I write what I know and care about. I write the books I'd like to read and nobody else is writing. I write from my heart. So far all of that has led me to writing books that revolve around GLBT characters.
2. Your website states that you hope that Rainbow Boys will become a movie or be made for TV. What information, if any, do you have about this?
Nothing definite so far. Keep checking www.AlexSanchez.com
3. So many people have asked about another Rainbow Boys book and we know you said you wouldn't go back to the characters at least for a while, but do you believe that you'll ever return to them? If so, do you think it would be far in the future?
My concern is that no matter how many books I write about Jason, Kyle, and Nelson, people will always want to know: what happens next? They'll never want the series to end. There are too many other stories I want to write.
4. What would your advice be to those who are worried about coming out or having a hard time dealing with their sexuality in general?
Coming out is a very personal decision and only that individual can decide if, how, with whom, and when to come out. On one hand, coming out can be a very freeing thing. You no longer have to hide who you are, censor what your say, and watch what you do. Being honest and open enables you to feel confident about yourself and more able to form closer relationships with people.
But because homophobia is so pervasive in our society, you never know how others will react. Some people may accept you immediately, others may take a while, and others may never accept you, even though you're the same person you were before you came out. A big part of coming out is whether you're prepared to deal with anti-gay reactions that may come from being open.
There is no rush to come out. TAKE YOUR TIME. The most important thing is that YOU love and accept yourself for who you are. Don't do anything before you feel ready. It's your life and your choice. Whatever you decide is OKAY. Only you can decide what's best in your life at any given moment. For more info, visit the "Coming Out" page on my website.
5. Your newest novel, The God Box, deals with being gay and Christian. Why did you decide to write a book dealing with this issue? What has been the response so far?
I wrote the book in response to teens struggling to reconcile their spirituality and sexuality. The response has been mostly positive, with some negative. The world is changing so quickly. With The God Box, I've discovered a huge network of gay and gay-friendly religious groups that have been waiting for a book to help them reach out to teenagers. Now they have that book.
6. Are you currently working on anything at the moment? If so, any information you can give out?
Yep, I'm working on a new manuscript about teens. That seems to be where my voice is. I have a very loud and expressive gay Latino "inner teenager." You can keep track of him through my website.