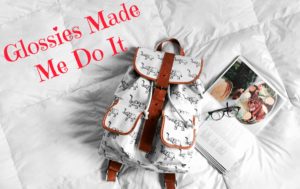 Grab your November magazines and join myself, Ashley, and Erika for our monthly link up Glossies Made Me Do It!
For this month, I grabbed the People Magazine for the week of November 6th (hopefully you'll be able to find this in stores; I never know when they decide to switch over to a new week). Inside, there was a mini interview with English singer and songwriter, Dua Lipa. I believe I first came across Dua Lipa while browsing songs on iTunes, and I'd wanted to purchase her album for awhile. When I read the interview with her in People Magazine, I knew this was the perfect time to finally go ahead and buy her music and I have to say…I'm so glad I did! On iTunes, you can buy her regular album for $7.99 and her deluxe album for $11.99 (I went with the deluxe so the price is still so amazing!)
Since the interview mentions her song with Coldplay's Chris Martin, I suppose I'll start there. The song "Homesick" is a slower one, but very beautiful. I think this one will appeal to many. Two songs that are more upbeat, fun, and dare I say, sassy, are "Blow Your Mind (Mwah)" and "New Rules." These are sure to be on repeat for me! Honestly, though, I think I'd be happy listening to almost any song on this album over and over. It's a great mix of belt your heart out, dance fever, and more slower, emotional songs.
There are two explicit songs – "Blow Your Mind (Mwah)" that I mentioned above and "IDGAF" which is another that I love. If you're getting over an ex, blast this song up, ladies and gents! And in case you aren't aware of what those initials mean, IDGAF = I Don't Give a F*CK.
Glossies Made Me Do It- Buy Dua Lipa's debut album! #ontheblog #dualipa
Click To Tweet
All in all, a really great debut album. I'm sure we'll all be hearing a lot more from Dua Lipa.
Have you heard of her? Any favorites? If not, check her out and let me know what you think!
And now…link up your own Glossies Made Me Do It posts!