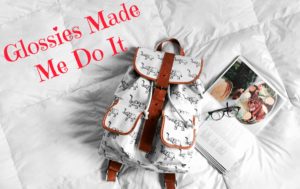 Welcome to the May 2018 Glossies Made Me Do It post, co-hosted with Ashley from Happy. Pretty. Sweet. This series takes place every first Friday of the month and you share something you found/learned about/loved in a recent magazine you've read. Pretty much anything goes, so we'd love to have you join in!
This month, Glossies Made Me try a new product – which I found in the Cheap Thrills section of Cosmopolitan magazine (May 2018 edition). That product would be the Freshies On-The-Go deodorant from Secret.
I picked up the Cool Waterlily scent from Walgreens, and it was about $5, which isn't too bad of a price. One thing that I really love about the packaging is that it has a scratch and sniff that lets you check out the scent beforehand. I think the Cool Waterlily smells really nice and refreshing!
These on-the-go deodorants are such an ingenious idea. Sure, you could get a travel size to take with you, but this deodorant is essentially the size of an EOS lip balm and therefore really easy to take along with you. I'm in two dance classes and I recently joined a gym, so I knew this deodorant would be great to have for those occasions. Plus, the weather is going to start warming up soon, so it's never a bad idea to have deodorant on hand.
Honestly, I think the deodorant works really well. It's a great size, smells awesome, and it's obviously a very practical item to always have on hand. I would certainly recommend, and I'm curious to see what other scents are out there!
Tell me: have you tried these deodorants yet? Will you?
Glossies Made Me try the new Freshies On-The-Go Deodorant from Secret. Have you seen these? #ontheblog #productreview
Click To Tweet
Have your own Glossies Made Me Do It post? Link up below!