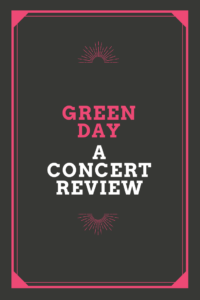 On Sunday, August 20, I went to Riverbend Music Center in Cincinnati, Ohio to see Green Day. This was my first time seeing the band live, so you could definitely say I was excited. My sister and I had lawn tickets, but we went to the right side of the stage and ended up having a fairly good view. There was also a screen on that side that allowed a closer look too. The opening act was Catfish and the Bottlemen, who were fun to see live. I knew and loved a couple of their songs, so I'll definitely have to listen to them more. It didn't take too long before Green Day was out, and they played for a little over 2 hours. Honestly, I don't know how they have the energy they do, but they bring it the entire night. They are a band that I would highly suggest seeing live if you get the chance. They really know how to put on a show and I loved that they played a mix of old and new songs. I love when bands do this because it's obvious they know that some people have been fans for a long time – or at least love their entire catalog – so it's nice to hear some classics like "She" and "Minority." The show even ended with Billie Joe playing an acoustic guitar and singing Good Riddance (Time of Your Life), with Mike and Tre coming out at the very end to stand by him. It was such a great way to end the show, as that song is quintessential Green Day (even if you aren't a fan, you probably know it). Of course, they also played a lot of newer stuff, especially from their American Idiot album. I was really excited that they chose "St. Jimmy" as one of those songs because it's a favorite of mine from that album.
As for the rest of the show, like I said above, Green Day know how to perform and create a great show you won't forget. Billie Joe had a lot of back and forth with the audience, in terms of singing notes and having them repeat it. He also had three people from the audience come on stage with the band, which was so much fun. The first two came up to help sing songs. He kept asking if people knew the lyrics for a song – "you swear to god you know the lyrics" – and thankfully, the ones he chose did so it was a fun experience to watch. I'm sure the people on the stage were even more thrilled. At the end of the song, they both crowd surfed off the stage. The third person to come on stage was actually an 11-year old named Sadie and she was chosen because she could play guitar. It was really sweet to watch Billie Joe show her the chords to play and then watching them finish the song together. I can't imagine how thrilled that kid must have been – plus, when she finished, Billie Joe told her she could keep the guitar. Jealous! I thought these moments were really fun and for the fans that were chosen to come on stage, it would be lifelong memories for them.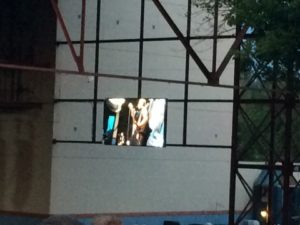 There was a moment about midway through the show where they started singing "Shout" and when they get to the "a little bit softer now" part and you're supposed to get lower and lower to the ground, Billie Joe ended up lying on the stage floor. What I really enjoyed about this moment is that for a little while, he just starts talking to the audience about what an awful week it's been and how he hates Nazis and White Supremacist. While some might equate Green Day with being really political, they weren't all that much. This was probably the one moment they really spoke about the awful things happening in the world – but it wasn't about politics per se. In fact, in the beginning of the show, they mention that they wanted the night to be around singing, dancing, and just having fun. Forget everything else and just enjoy the night. Back to Billie Joe on the ground – eventually, he started singing bits and pieces of other songs like "(I Can't Get No) Satisfaction" and "Hey Jude." Eventually, he stands back up and they finish off "Shout." It was a fun moment – the music, the "speech", and just having that slightly slower moment in the whirlwind of the night's show.
Green Day: A Concert Review #ontheblog #greenday
Click To Tweet
This was a show that I was looking forward to ever since I got my tickets, and I do hope to see Green Day live again in the future. They were so much fun to not only listen to but to watch as well. It was a performance – not just a chance to hear their songs live. And I have to end this review by stating what Billie Joe said at the very beginning of the show – "No Racism, No Sexism, No Homophobia." They have tour shirts with this saying on the back and my sister got one that night. I wish I'd had the money to grab one, but I can always try and borrow hers! At any rate, I love the saying and I love that they shouted it out for all to hear that night.
***
Want to experience some of the show yourself? Here are some videos I took that are now on Instagram-
Opening act Catfish and the Bottlemen sing "7" – video
Opening act Catfish and the Bottlemen sing "Soundcheck" – video 
"Holiday" by Green Day – video 
Billie Joe from Green Day telling everyone to have fun – video
"Longview" by Green Day – video
"When I Come Around" by Green Day – video
"Minority" by Green Day – video
"St. Jimmy" by Green Day – video
"She" by Green Day- video
Billie Joe lying on the stage…"a little bit softer now…" – video
Billie Joe lying on the stage, talking about having only one life to live – video
"Jesus of Suburbia" by Green Day – video
"21 Guns" by Green Day – video
"Good Riddance (Time Of Your Life)" by Green Day- video