Disclosure: This is a sponsored post, but all opinions are my own. #Groupon #ad


I've talked about Groupon on my blog before, so I wanted to remind you of all the amazing things you can get as we approach the holiday season. I can't believe Halloween is tomorrow! While you can search your local listings on Groupon, you can also look at Groupon Goods and get all kinds of wonderful deals on gift items for you, your friends, and family! One of the things that I love looking up on Groupon are their magazine subscription deals. I subscribe to a lot of magazines, and I find a year-long subscription makes an awesome gift, so definitely try searching to see what you find.
Just recently, I signed up for a year's subscription to Oprah Magazine, for $5! That's one year of Oprah (12 issues) and all for only $5. You really can't beat that, right? There are a lot of other great subscriptions available too – Teen Vogue ($5), Better Homes and Gardens ($5), Martha Stewart Living ($5), and a lot more! Really, truly, something for everyone on your list!!
If you aren't into magazines, or you already subscribe to everything you want, then I thought I'd share a couple pictures of some other fun items you can get when searching Groupon Goods.
Any Hunger Games fans? You can get The Hunger Games: Complete Collection on DVD or Blu-ray for $34.99.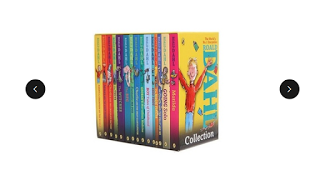 A lot of people have been celebrating 100 years of Roald Dahl so you might want to invest in this 15-book collection. It's worth $207.59 but you can get it NOW for only $39.99. How awesome is that?
These are both items that I would absolutely love to get and you can get them too, and many other items, by visiting Groupon Goods and searching for your interests!
What would you get?
-Lauren