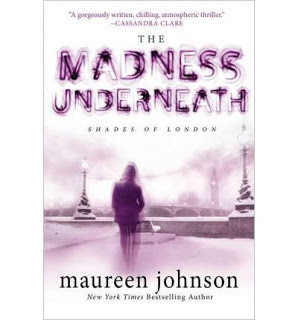 Guest Review by Kari
Copy sent for review, but all opinions are our own
Review:

The Madness Underneath by Maureen
Johnson is the second book in the Shades of London series. This book is the
sequel to The Name of the Star and
continues to follow Rory Deveaux after her experience with the Ripper. The book
begins with Rory recovering in Bristol with her parents and it shows her going
to a therapist, who she is not allowed to talk to. Before she left London, she
was told that she could not have contact with the Shades, the secret ghost
fighting police, ever again. She even had to agree to never speak of them.
This left her alone trying to deal with her ability to see ghosts and her new
ability to destroy them with one touch. It isn't long though before she gets
sent back to Wexford, her boarding school in London.
Rory
may have helped get rid of the Ripper, but her fight with him is still
affecting her. When Rory gets back to school, she struggles with classes and
with her relationship with her boyfriend, Jerome. To make matters worse, Rory
soon learns about a murder in a pub close to her school. She starts to get a
theory that her struggle with the Ripper may have released previously trapped
ghosts. The only good thing about her return is that she is contacted by the
Shades and they tell her they know about her new ability to destroy ghosts.

The
book follows Rory as she and the Shades search for the truth behind the murder
at the pub. It also allows the reader to see Rory's struggle with getting back
to her routine before the Ripper. Her experience really changed her. Her
challenges in the last book cause her to make some questionable decisions which
may just lead her and the Shades into dangerous situations.
Johnson's
second book in the series is definitely worth reading. It isn't as fast paced as
the first, but it is still a great story. The author's ending makes the reader
wish the third book was already out. There is something about these characters
that make you wish you knew them. I promise that once you read the first two
books in the series, you will be hooked!