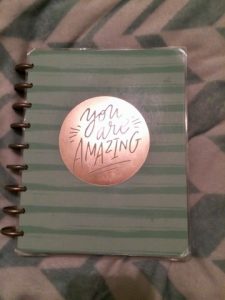 In honor of the Planner Hop that I'm co-hosting (you can link up until December 15th – join us!), I thought I'd share a little bit about the planner I've been using all year. I got The Happy Planner from Michael's. This is the standard – or medium – size. I ended up getting a large and a mini for 2018, which I'm sure I'll share more about later, but 2017's planner worked really well all around. I plan on keeping my planners as a way to look back on things from the year!
A look at the Happy Planner + A Personalized Box of Planner Supplies Giveaway!
Click To Tweet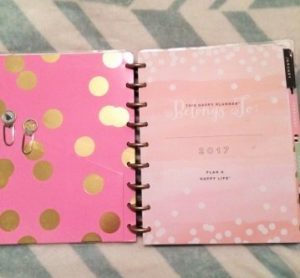 When I opened my planner, this is what I saw. I never did put my name on who the planner belonged to! Oh well! I love the folder on the left though – I usually put papers I needed to keep on me for work. You can also see some metal bookmarks a co-worker friend of mine gave me earlier in the year! Right now they are just chilling as decoration.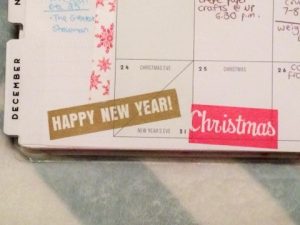 There is a month at a glance for every month and I tend to fill that up with work and life things. I also really love to decorate these with all sorts of washi tape and stickers. You can really only see the washi tape here, but I have a cute 3-D Olaf sticker at the top of the page! I really need to get erasable pens because I do sometimes cross things off and it would be nice to erase it since I want to keep these as memory books!
After the monthly pages, you get these vertical blocks for every day. I use this for my blogs! The top block where it says SSM is for Shooting Stars Mag and then the second block is LGBT for Let's Get Beyond Tolerance. The very bottom block – which you can sort of see – is usually where I keep track of what I eat when I'm at work. This is obviously the pages from the past few days – with some fun holiday themed washi tape!
And finally this is an insert/pocket that I made at a Michael's planning session. It was only me and another girl, along with the leader of the class, so we got some one-on-one help which was great and definitely needed by me! I love that you can really customize your Happy Planner because the pages can come out – and you can buy a punch that lets you create your own pages to add.
Voila! A quick look at my 2017 Happy Planner. Would you like to see my 2018 planners? I might share them later, but let me know!
Remember, use your Ebates account if you're going to buy a planner or other supplies from Michael's, since you'll get cash back! If you don't have an account yet, use my affiliate link here. Make a $25 purchase and YOU get $10 back right away!
Now…Giveaway Time!!
*giveaway open to U.S. only (must be 18+ or have parental approval)
*giveaway ends December 31, 2017 (Happy New Year's Eve!)
*giveaway prizes purchased by me; not responsible for lost or stolen items once shipped
The prize will be a random assortment of planner supplies – I'll talk to you about your favorites, etc. so it's a bit personalized though!