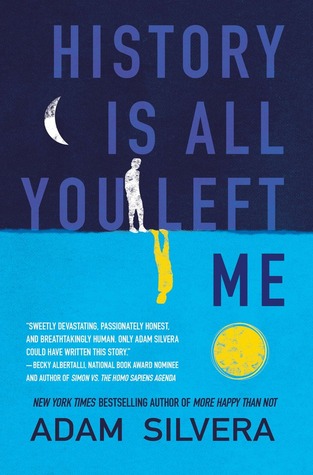 History Is All You Left Me by Adam Silvera


Review by Lauren


source: copy from BEA16; all opinions are my own


Official Summary: When Griffin's first love and ex-boyfriend, Theo, dies in a drowning accident, his universe implodes. Even though Theo had moved to California for college and started seeing Jackson, Griffin never doubted Theo would come back to him when the time was right. But now, the future he's been imagining for himself has gone far off course.

To make things worse, the only person who truly understands his heartache is Jackson. But no matter how much they open up to each other, Griffin's downward spiral continues. He's losing himself in his obsessive compulsions and destructive choices, and the secrets he's been keeping are tearing him apart.

If Griffin is ever to rebuild his future, he must first confront his history, every last heartbreaking piece in the puzzle of his life.


Review: When I read Adam Silvera's debut novel, More Happy Than Not, I knew I'd found a new favorite author. After checking out his sophomore effort, I am happy to say that I wasn't wrong. Adam is still very much one of my favorite authors. I love that he shares stories that may follow under the LGBT+ umbrella, but they are always so much more than that.
In History is All You Left Me, the book is told in Griffin's point of view. There are chapters marked Today and chapters marked History. Today takes place in 2016 and follows Griff's life after learning that his ex-boyfriend, Theo, has died. He might have been broken up with Theo, but he always imagined them getting back together in the long run. For Griff, him and Theo were end game. The History chapters chronicle various moments before Theo's death, starting with the two of them admitting they like one another as more than just best friends.
This book is why I love contemporary fiction. There are tough issues dealt with, like watching your first love get a new boyfriend, death and learning to go on, but it's also a story of empathy and friendship. Trying to move on from Theo's death, Griff finds himself getting closer to Theo's boyfriend, Jackson. Griff lives in New York and Jackson is in town from California. It makes sense that they would end up in each other's lives, though they fought it when Theo was alive. These are the only two people that loved Theo in the same way and while one was a current boyfriend and the other was an ex, they are still hurting in much the same way. While I liked how they were able to help each other, I also knew it couldn't last. Griff needed to get help beyond Jackson and he couldn't keep pushing away people, especially his and Theo's other friend, Wade, who was left to grieve on his own.
Another aspect of this book was Griff's OCD and it was handled really well. I liked that it showed that not all people who have OCD end up doing or obsessing over the same things. Griff calls it his quirks, as he's not entirely sure in the beginning what it means. He feels like he's going crazy, always wanting even numbers, unless it's an odd number he can handle. He has to walk on the certain side of someone and he won't sit shotgun in a car.
I always appreciate when there are more to contemporary novels than just a romance or just this or just that. I think Silvera handled all of the topics and characters in this novel really well. Throughout the book, I thought that I really got to know the characters well. Everyone felt fully-formed, even the secondary characters, and I appreciated that. It all felt real and brought the story together.
I can't wait for more from Silvera, and I highly recommend History Is All You Left Me!


History Is All You Left Me comes out tomorrow and you can check it out on Amazon now (I'm an amazon associate, I get a small percent if you buy from my link).