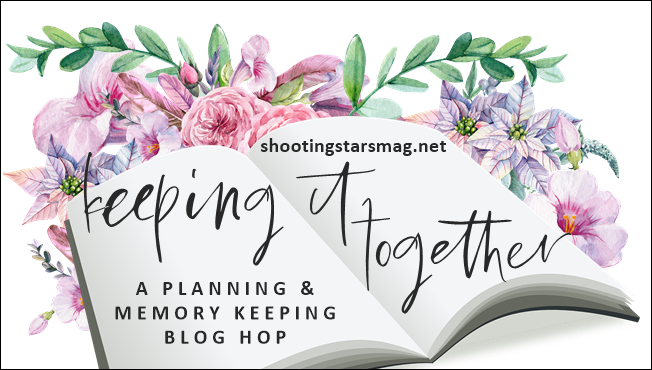 Welcome to Keep It Together with myself and Alexandra! Every third Thursday of the month we share posts all about planning/planners, scrapbooking, Project Life…really anything related to memories and memory keeping! We'd love to have you link up below.
Also, thank you so much (again) to Kelly from Diva Booknerd for making some new meme buttons (to go along with my header!) It's beautiful!
Planning Out Things to Do
Last year I did a post about how I keep track of possible events I might want to attend. I'm still doing that, and this time of the year is definitely busy. Fall is my favorite season, and Halloween is my favorite holiday, so I love all the fun events that happen during these months.
Apart from keeping track of which events sound good, I've also found various ways to find these events in the first place. I know this is different for everyone depending on where you live, but you might have something similar, so it's worth checking out.
Ways to find fun events in your area #ontheblog #keepittogether
Click To Tweet
Facebook Events
If you have a Facebook account, then you have this feature. Log into Facebook, look on the left hand side and under Explore, it will say Events. Click that. You should get event recommendations: Events You May Like, Popular With Friends, etc. You can also search by the date or by the "subject" such as Film, Party, Literature, etc.
I like to regularly check my Facebook events. If I find something interesting, then I click Interested so it saves it to my event list (at the very top of Facebook Events are your events). Once I think it's something that I'm likely to do, then I might put it in my planner as a possible event – or a definite idea if I've made official plans. I probably find most of my ideas for things to do via Facebook Events. Super handy!
Deal Sites
Some deals sites are things that people from all over can look at, such as Groupon, while others are more specific to where you live. I love deal sites though because they not only give me ideas on things to do or see, but they also offer it at a discount.
Some of the deal sites I've used in the past:
Groupon – if you're looking for events, check out the tab Things to Do. Also, if you don't already use Rakuten, feel free to sign up with my affiliate link. You get a certain percent back on all Groupon purchases (win-win all around). Rakuten works for all sorts of websites so it's worth it – and definitely add the Chrome Extension!
CincySavers – this is for Cincinnati area places, but they have some great deals for all sorts of things, but mostly events (or things to do) and restaurants.
Perkopolis: another Cincinnati area deal site. Their tagline is "save 50% on Cincinnati". Nice, right?
Local Papers and Websites
CityBeat: this is a free, weekly newspaper for the Cincinnati area. You can also check out their website and find all this information too – but they're a nice place to look when you want to see what's happening in the Cincy area.
Cincinnati USA – this is something that most larger cities probably have, so I'd do a Google search. The Cincinnati version lets you search for events and you can narrow things down by the month (or certain dates), family-friendly, free, location, etc. This is for Cincinnati and Northern Kentucky.
How Do You Plan Out Things To Do?
Do you use any of the sources I shared above, or the equivalent for your city? If not, definitely head to Google and see what you can find for where you live! Since I've been doing this, I've found all sorts of fun things to do around where I live (it helped inspire Local Tourist) and my friends and family just get to reap the benefits!
You are invited to the Inlinkz link party!