Normally I post these kind of things on Wednesday, but I missed this past Wednesday and am too impatient to wait until this Wednesday. So there for, you are getting this now!
These are three books (one out and two coming soon) that I really really want, so basically "they must be in my life."
It's Complicated: The American Teenager
By: Robin Bowman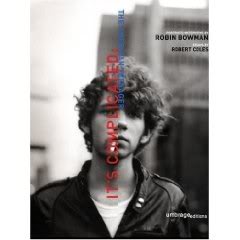 Robin Bowman's five-year journey into the heart of teenage America created a series of 414 "collaborative portraits," wherein she shares her discoveries of a generation now coming of age. In searing and intimate photographs, presented alongside the young people's voices of passion, pride, embarrassment, lust, pain, bewilderment, anxiety, joy, uncertainty, and rage, the book charts the coming of age of the largest generation in America—77 million strong—in every region of the country and every socioeconomic group: from a Texas debutante to teenage gang members in New York City, from a drag queen in Georgia to a coal miner in West Virginia.
Bowman's intimate photographs ask us to reconcile preconceived ideas and stereotypes of teenagers with the diversity of individuals in the portraits. This book and the traveling exhibition it accompanies are about the inside lives of these kids and how they see their reality in their own voices.

I think this book sounds amazing and I love the idea that it's trying to break down stereotypes and show that what you believe about a person isn't necessarily the truth. Looks can be decieving after all.



The Vast Fields of Ordinary
By: Nick Burd
It's Dade's last summer at home. He has a crappy job at Food World, a "boyfriend" who won't publicly acknowledge his existence (maybe because Pablo also has a girlfriend), and parents on the verge of a divorce. College is Dade's shining beacon of possibility, a horizon to keep him from floating away.
Then he meets the mysterious Alex Kincaid. Falling in real love finally lets Dade come out of the closet—and, ironically, ignites a ruthless passion in Pablo. But just when true happiness has set in, tragedy shatters the dreamy curtain of summer, and Dade will use every ounce of strength he's gained to break from his past and start fresh with the future.
I first heard about this on The Story Siren's blog and I instantly fell in l0ve. I really like the premise and the cover is pretty cool as well. And guess what? It comes out in May! It would totally fit my Birthday celebration!!! 🙂



The Reformed Vampire Support Group
By: Catherine Jinks

Think vampires are romantic, sexy, and powerful? Think again. Vampires are dead. And unless they want to end up staked, they have to give up fanging people, admit their addiction, join a support group, and reform themselves.Nina Harrison, fanged at fifteen and still living with her mother, hates the Reformed Vampire Support Group meetings every Tuesday night.

Even if she does appreciate Dave, who was in a punk band when he was alive, nothing exciting ever happens. That is, until one of group members is mysteriously destroyed by a silver bullet. With Nina (determined to prove that vamps aren't useless or weak) and Dave (secretly in love with Nina) at the helm, the misfit vampires soon band together to track down the hunter, save a werewolf, and keep the world safe from the likes of themselves.The perfect anecdote to slick vampire novels, this murder-mystery comedy of errors will thrill fans of Evil Genius.

I love vampire novels, so that's a plus towards this already, but I also really love that Jinks has taken an insanely growing genre and made her own, unique story. I love it and it sounds hilarious, which is awesome!! I've never read anything by Catherine Jinks (so far) but I definitely think I'll start with this one. It comes out in April 09.