Thank you to The Children's Book Review and Carole P. Roman for allowing me to take part in this blog tour. This is a sponsored review, but all opinions (as always) are my own. I was sent a variety of books by Roman to look over, but since I'm allowed to focus on just one, I thought I'd share a book that I thought many of you might enjoy!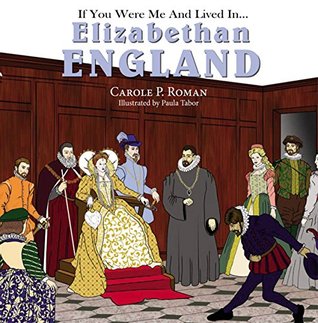 If You Were Me And Lived In….Elizabethan England by Carole P. Roman and Illustrated by Paula Tabor


Review by Lauren


source: book from author for tour; all opinions are my own


Review: This book (and the others by Ms. Roman) are like a textbook and picture book all mixed in one. It's a great way to teach younger students about other countries or time periods. I thought Elizabethan England might be a time period that many of my regular readers would enjoy, so I'm going to focus on this book in particular. The story is written as if someone from that time period is telling a current child about how they lived. Hence the whole "If you were me…" This book focuses on the "reader" as if they are a female, but they talk about boys in this time period too, so it's good for both genders in the long run.


One thing that I really loved is that the book doesn't just give facts and an illustration, moving from one thing to another. Yes, there is plenty in information but it made it feel like an actual story in way, by talking about clothes in terms of what this girl and her family wears and showing the theater when her brother runs off to join a theater group instead of staying home and becoming a baker like his father. It's this type of storytelling that helps everything flow well, so it didn't feel like a dull textbook.


I wouldn't say I'm an expert on this time period but I do know a bit about it, mainly having studied Shakespeare in college. However, there are so many fun little details that really make this interesting for any age. One tidbit/fact that's included is how the phrase "it's raining cats and dogs" probably came out! Do you know?


At the end of the book is a spread of actual people from this time period that are important and a little summary of who they are and what they did. Some obvious inclusions are Shakespeare and Queen Elizabeth I, but others are included as well. After this, the book includes a Glossary that goes through and gives definitions for the various words mentioned in the book. I loved this because if you're teaching someone about this time period, they might not automatically know about The Globe Theater or the definition of ale.


Overall, I enjoyed this one, and I thought the illustrations were done well. I'd recommend this for librarians, teachers, those who home school their kids, and anyone else who wants to share about certain countries/time periods with their children — or even learn more about it themselves!


One (1) winner receives the grand prize:


A set of all 6 books in the IF YOU WERE ME AND LIVED IN … AN INTRODUCTION TO CIVILIZATIONS THROUGHOUT TIME series


A set of all 18 books in the IF YOU WERE ME AND LIVED IN … AN INTRODUCTION TO CULTURES AROUND THE WORLD series


A $50 Amazon gift card


Value: $359.75


Four (4) winners receive:
A choice of one book from either series.


Value: $10.99 +


Giveaway begins July 20, 2016, at 12:01 A.M. PST and ends August 20, 2016, at 11:59 P.M. PST.


Giveaway open to US and Canadian addresses only.


Prizes and samples provided by Carole P. Roman.


a Rafflecopter giveaway



IF YOU WERE ME AND LIVED IN … AN INTRODUCTION TO CIVILIZATIONS THROUGHOUT TIME
What a fascinating way to introduce young children to the world as it was, so that they may begin to learn about their roots and how the world and the people in it have evolved. Yes, Carole P. Roman, thanks to you, it is time for readers to hop aboard their time travel machines. Where will they go first?
Readers will learn about things like housing, land, cooking, diet, clothing, and the jobs and hobbies people had in different times. Questions are often asked to inspire deeper thinking and encourage young learners to look for changes between the historical period and our current times. The end pages usually include more specific information about the importance of the time period itself, a list and brief biography of famous people, and a glossary of foreign words.
Discover Ancient Greece, Renaissance Italy, Elizabethan England, Colonial America, Ancient China, American West, and the Middle Ages.
Coming soon: Viking Europe and Mayan Empire
The complete series is available on
Amazon
.
IF YOU WERE ME AND LIVED IN … AN INTRODUCTION TO CULTURES AROUND THE WORLD
In IF YOU WERE ME AND LIVED IN … AN INTRODUCTION TO CULTURES AROUND THE WORLD, readers learn what it is like to live in other countries, see famous architecture, celebrate a favorite holiday, discover popular names for both boys and girls, and they will be fascinated with diverse and rich history and colorful traditions. On the way, they might also learn a foreign word or two!
Explore Mexico, France, South Korea, Turkey, Norway, Kenya, Australia, India, Greece, Peru, Russia, Portugal, Hungary, Scotland, China, Italy, Egypt, and Brazil.
Coming soon: Poland and Israel
This complete series is available on
Amazon
.
Carole P. Roman is the award winning author of the nonfiction series of children's books, If You Were Me and Lived in … . The first title in the collection, If You Were Me and Lived in…Mexico, won the Pinnacle Award for Best in Children's Nonfiction in 2012.
If You Were Me and Lived in…Russia
and
If You Were Me and Lived in…France
were finalists in the Indie Fab Foreword Review Book of the Year.
Norway
and
South Korea
have also been named as Book of the Year with Rebecca's Reads and Children's Reader's View Book of the Year. Roman has also found success with her Captain No Beard children's books. Her debut,
Captain No Beard: An Imaginary Tale of a Pirate's Life
, was named a Kirkus Best of 2012, received a Star of Exceptional Merit, and won the Pinnacle Award in 2012. Roman lives on Long Island with her husband and very near her children.
#IfYouWereMeAndLivedIn