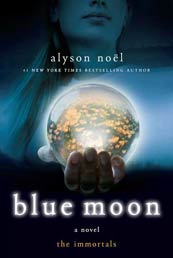 Interview with: Alyson Noel
By: Lauren
1. I absolutely love your covers for the Immortal series. They really stand out and that's always a good thing for an author. Did you have any say when it came to them? What was your first reaction when you saw Evermore and Blue Moon?
I love the covers too—the St. Martin's art department does an amazing job. The first time I saw them, I was just gobsmacked—in a good way! And while I'm always asked for my input, I usually just end up mumbling stuff about significant items or symbols found in the story, colors I like, the mood they might want to invoke, and then the artists translate that gibberish and come up with something wonderful every time! I recently got a sneak peek at the SHADOWLAND cover and I have to say it's my favorite one yet! I can't wait til I get the okay to share it!
2. Congratulations on being a New York Times Best selling author. That's so amazing! How did you hear the news and how did you celebrate? Was this always a dream for you or just an awesome plus or both?
Oh, it was always a dream—though kind of a distant one—like traveling the world, or climbing Everest. I was mostly just focused on writing the books.
A few days after EVERMORE's release, we knew it was a possibility since sales were good and it had already gone back to press a few times, and even though I was on pins and needles the whole time, when my editor called with the good news, I was actually in the dentist chair with a mouth full of instruments, but I took the call anyway and much shouting and squeeing ensued while my hygienist stood patiently by. On that same day I learned it had made the USA Today list as well, and that the dramatic rights had been optioned by Spring Creek Productions, and on the way home, I just broke down and cried, remembering the whole entire journey: a rough childhood/adolescence, all the rejections, snubs, and naysayers I'd faced along the way, and I could hardly believe it amounted to this!
When BLUE MOON debuted at #1 on the New York Times list and #14 on the USA Today list, I was working out with my iPod blasting so loud I missed the initial call—but quickly caught up as soon as I was done and wasted no time in popping the champagne!
3. If you had to cast your own movie version of your series, who would you want to play Ever? Speaking of films, any word on it actually becoming a movie? If it did, how would you feel about that?
Well, since the rights to the series have been optioned, I think it would be so cool to see something actually happen with it. And while I'm a really visual writer, often feeling like I'm just transcribing the movies I see in my head, I'm surprisingly bad at casting my characters with real live actors—though my readers have come up with some great suggestions like Ben Barnes for Damen, and I have to say, that's really close to how I envisioned him!
4. Book bloggers are becoming bigger and bigger with new ones cropping up all the time. What are your thoughts about this new way of promoting and do you think it helps a lot or is more of a fun way to spread the word a bit more?
I think it's great—truly phenomenal really, the way an entire online community has been formed by people excited about books. And since promotional dollars are always so tight for both authors and publishers, anything that gets the conversation going and the word spreading is always a good thing!
5. Who would be at your ideal party (dead or alive)?

Oh, I love this question! Let's see, off the top of my head I'd invite:
Leonardo Da Vinci, Botticelli, Vincent Van Gogh, and Picasso—so we could talk art; George Harrison, Buddha, Jesus, Lao Tzu, Gandhi, and Bono—so we could talk music and spiritual/mystical stuff; The Bronte sisters, JD Salinger, Nick Hornby, Truman Capote, Judy Blume, and David Sedaris—so we could talk books; Sasha & Malia—because they're adorable and would add that extra edge of cool; Jon Stewart, Stephen Colbert, Alan Ball (so I could get the inside scoop on True Blood), Johnny Depp (because I'm allowed a little eye candy, right?), Richard Branson, and Albert Einstein—so we could really mix it up; and, of course, my friends and family since they're always great to have around!
Giveaway-
Enter: Leave a comment about who you would invite to a party (dead or alive)?
Open To: International!!!
Prize: Signed copy of Evermore
Ends: September 11th
EXTRA-
+1 follower (leave a new comment or it might not count)