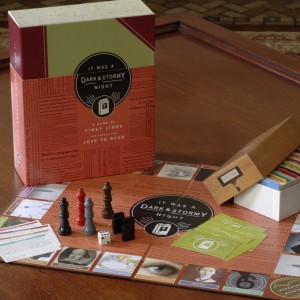 Gone Reading has a wonderful mission. I'll let them explain it in their own words-
Gone Reading International donates
100% of our after-tax profits
to provide new funding for libraries and reading-centered non-profits. By purchasing GoneReading brand gifts and merchandise, you're treating yourself
and
the world at large to a wonderful gift. All purchases from GoneReading help contribute to our philanthropic work.
So what is this all about purchases? Well, to help fund reading for all, Gone Reading has an online store with all types of literary gifts. The item I want the most is shown in the picture above.
It is called
It Was a Dark and Story Night: A Game About Books
! It's all about the opening lines in a variety of books. Doesn't it sound amazing? Better yet…if you are buying the game from the U.S., the shipping is FREE! I love to hear that. And it make the price of $39.95 sound even better. Yeah, it's a bit pricey…but free shipping in the United States? A game about books? Money going to a great cause? I think it's worth it!
You can find all sorts of other bookish items in the store as well from book lights to book journals to t-shirts for men and women, and even book ends!
Gone Reading was even kind enough to offer my readers a discount code in case you want to start shopping right away!
Code: SHOOTINGSTARS25
Expires: April 8th, 2012. You have a little under a month so start shopping now, and feel free to pass the code along to anyone you wish.
I ask you now: What first lines of a book are your favorite? What other items in the shop would you buy?
-Lauren