Lady Killer, Volume 1 by Joëlle Jones and Jamie S. Rich
Review by Lauren
Source: copy from library; all opinions are my own
Official Summary (add on Goodreads): Josie Schuller is a picture-perfect homemaker, wife, and mother—but she's also a ruthless, efficient killer for hire! A brand-new original comedy series that combines the wholesome imagery of early 1960s domestic bliss with a tightening web of murder, paranoia, and cold-blooded survival.
Review: I don't know where I first saw Lady Killer (Volume 1), though I imagine it was somewhere online. At any rate, once I saw it, I added it to my Amazon wishlist and there it sat for awhile. I was therefore very excited to realize that one of my local libraries carried the first volume (the second is out now) so I snatched it up and happily read it soon after.
Lady Killer is violent, and it's definitely an adult book, but I also didn't find anything to be too gratuitous. The book follows housewife and mother Josie, who seems to have the picture perfect life – a loving husband, two little girls, etc. However, what nobody in her "real life" knows is that she's actually a killer for hire and has been doing this for years.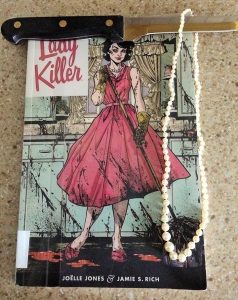 There is definitely more emphasis put on the plot of the story – and the killings – than really in depth characterization. Despite this, I still felt like I got to know Josie. Volume 1 shows where she stands on certain issues and how she won't kill just anyone. She's an efficient killer, and it doesn't hurt that she can use the fact of her being a woman to disarm people. Sometimes this means her sexuality, but other times it's just the fact that she appears innocent and unable to hurt anyone. That's where people are mistaken though! Josie can fight with the best of them and like I said before, she's very efficient at getting the job done.
It looks like Lady Killer, Volume 2 is out now so I definitely want to find a way to read that soon, as I'm curious where Josie ends up after Volume 1.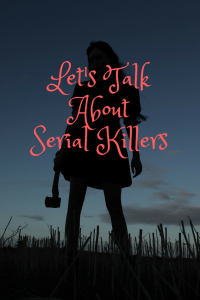 Finally, I had a question for you, whether you've read these books or not: do you consider a killer for hire a serial killer? I mean, they are killing multiple people at different times and in different places. Yes, they are being paid to do so, but I still think that this counts as being a serial killer. This difference makes it interesting when thinking of Josie, as a woman, as most serial killers are men. Plus, a killer for hire almost tries to sanitize the issue a bit, but when you really think about it, Josie is still very much a killer whether there is money involved or not. As such, I'd consider her a serial killer. Would you?
Lady Killer: A graphic novel about a killer for hire...who just happens to be a mom and wife too! #graphicnovels #bookbloggers
Click To Tweet
(Let's Talk About Serial Killers is a new "feature" on the blog; it will mostly be attached to things I review that deal with serial killers – TV, movies, books, etc.)