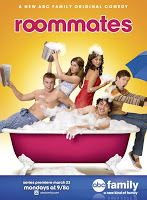 Interview with Tamera Mowry, who plays Hope!
for the new show Roommates on ABC Family. Premeires tonight March 23 9/8c.
By: Lauren
Find out More: http://abcfamily.go.com/abcfamily/path/section_Shows+Roommates/page_Detail
Show Summary: Mark has a crush on Katie, so what's he do? Becomes her roommate. Smooth. They also live with Hope, a career woman … um, without a career. And roomie No. 4, James, has advice for everyone, but he's no better off than anyone. And finally there's Thom, who doesn't live in but hangs out a lot. Hookups, jobs, and other embarrassments keep the laughs coming as five twentysomethings try to figure it all out.
Lauren:
Well, my first question is since not everyone, not every single character on the show were originally friends, how did they all come together to be roommates?
Tamera Mowry:Well, living in New York and not having much money, you tend to look for places. James' character, it's actually—we've made the back story—it's actually his place. And Katie and I went to college together, and we were just looking for a place to stay, and so he let us stay there. And then we just happened to have another roommate, so it was just kind of those things, you know, where you're going through life and you need a place to stay and you see a bulletin, a board that says, "Roommates needed." And that's basically how it all started.
Even in real life, I know tons of people who aren't friends with their roommates. They never even see them, actually. They wake up in the morning and they're gone. They come back home, they're gone. So it's kind of like that, but not, with this show, obviously we're forced to mesh us together and try to figure everybody out. And I think that's what makes the show so funny because we are all distinctively different, and the casting director did, I think, did a wonderful job discovering that with these characters, because we all have something different to bring to the plate. And I think we're all great in doing that, so when you put us in a room, we all genuinely care for each other, so we just have fun.
Lauren: Yes, that sounds great. I think it adds a lot more, definitely, to the comedy aspect of the show that they're not already best friends.
Tamera Mowry: Yes.
Lauren: My next question was, since you're filming in front of a live audience, you have their reactions. I'm sure it's good for immediate, like what the people think, but how nerve-wracking is that?
Tamera Mowry: Oh my God, to tell you the truth, I haven't done comedy in ten years. Oh God, that tells my age. So going from doing Strong Medicine and doing single camera stuff to four camera, I literally though I was going to throw up because you know immediately if a joke works and if it doesn't, so in your head you're like, oh my God, I hope this lands, I hope this lands. But what's so great, I think, about our writers is they taught us to trust the material, so they just put all the pressure on them. They were like, "You know what, just be real. Say the words, and if it doesn't work, it's not on you. It's on us," and then they'd change it. So that helped a lot.
Lauren: That's great. Well, since you've been acting for a long time, along with your sister and your brother, were you ever worried about getting older and not being able to find certain jobs? Because they always talk about child actors and you're trying to grow up in the business. Was that ever a worry or did you have a lot of luck with it?
Tamera Mowry: Oh, yes. If anything, when you're in it, you're not worrying about it, but obviously, when the show ended, so did all the benefits. And people are like, "Oh, that's the little kid from Sister, Sister," and it was really hard to accept that. But I'll never forget, I don't know if it was Tatyana Ali or Neil Patrick Harris that said you have to allow yourself to be forgotten in the sense that, live your life. Naturally grow up. So I went to college. I traveled the world, and then when I came back, because of my life experiences, it naturally happened. I didn't have to take off my clothes or do something crazy in order for people to see that I'm an adult now. But it was a very hard transition, I'm not going to lie. I was out of work for at least two years, and then I hadn't got a series in four until I did Strong Medicine.
Lauren: Yes, I think that's great that even if you weren't always having a job, you were able to grow up and still do what you loved and not do something totally off the wall to get attention.
Tamera Mowry: Exactly.
Lauren: Yes. You always hate to hear those kind of stories, and so that's great. I'm really glad you're on a new show. I think it sounds great, and it's been great talking to you. Thanks.

Tamera Mowry: Thank you.
Remember: If you want the full transcript, leave your email in the comments or email me at: Lauren51990 AT aol DOT com