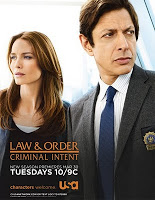 Review by Lauren
Fans of Law and Order: Criminal Intent are going to be in for quite an episode this week and next week for the two part/two night premiere. People die, people leave. I won't say who of course as that is part of the mystery but it should be interesting. I can see a lot of people complaining and I can't say much on that front as I never really watched this show before either. I do love Jeff Goldblum though. He has a laidback attitude on the show that is easy to watch and even easier to love. I'm quite interested in seeing where his character goes with the show and for more mysteries to unveil themselves this season.
I have seen both parts of this premiere and you definitely don't want to miss either. The first isn't just build up and the second isn't just the end of a climax. Both have some shocking factors and should give fans a shocking goodbye, with a nice hello. Don't miss it! For now…enter the giveaway.
-Open to U.S. Residents only
-Entrants must be at least 18 yrs of age
-This prize pack is valued at $160 and is provided by USA Network
To Enter: What are you looking forward to this season? (or from the show in general, if you haven't watched before)
+1 Follow the blog (leave a NEW COMMENT)
Ends: Saturday, April 17th
LAW & ORDER: CRIMINAL INTENT returns with 16 all new episodes on its new night, Tuesday, March 30 at 10/9c. SAG nominee Saffron Burrows and Academy Award nominee Mary Elizabeth Mastrantonio join Academy Award nominee Jeff Goldblum for the Season Nine two-part season opener featuring the departure of long time cast members Emmy Award nominee Vincent D'Onofrio, Kathryn Erbe and Eric Bogosian.
Winner will receive:

-Criminal Intent Nylon Cinch Sack
-Criminal Intent T-Shirt
-Criminal Intent Hat
-Criminal Intent Logo Pin
-Criminal Intent Season 3 DVD
-Criminal Intent Season 4 DVD