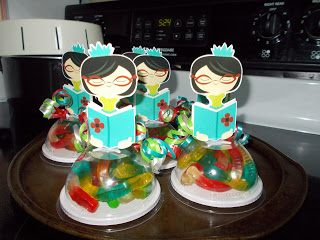 Itz Whimzeycal Design Studio

Review by Lauren

Check out the website here!

product sent for review, but all opinions are my own

Review: Another fun product I was able to utilize for my literary themed party were the bookworm party favors available at Itz Whimzeycal. I knew I wanted something that really fit my theme of a group of girls coming together to celebrate our love for books. These favors are the perfect thing! I was sent supplies to put together ten girls, which ended up being the perfect amount (I have a couple left over that I hope to use in the future).
When you receive your favors, the girls are already adorned with their ribbons, and you get the plastic dome for the treats, and the white board for underneath. The white part has a ribbon attached so you can pull the bottom out of the plastic dome and eat whatever is inside! All I had to do once I received my items was to hot glue the girls on top of the plastic dome, fill it up with treats, and push the white bottom up into the dome and voila! Everything is together and it looks fantastic!
I ended up choosing gummy worms to put in my favors as they represent "book worms" but the shop tells you:
Containers can hold up to one cup of candy such as
– M&M's
– Skittles
– Gumballs
– Chewy Lemon Heads Candy
– Mike & Ikes
You have plenty of options for your next party as to what type of favors you want too. You can go with the bookworms like I did (which went over well with my guests!! Everyone seemed to find them adorable!) but there are other ideas too! There are bumble bees (perfect for a baby shower), the classic princess collection (any girl would be sure to love this), and so much more!