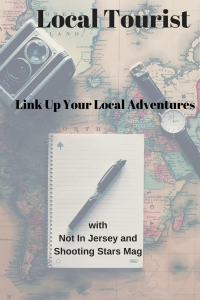 It's time to share all the fun, local adventures you had this past month with myself and Dara from Not In Jersey. Join us every last weekday of the month for Local Tourist; you can link up your posts below.
To be honest, there wasn't a ton that I did in November that would really suit a Local Tourist post. I had a couple wedding showers to attend for one of my best friends, and I saw a couple movies (A Star is Born and the new Fantastic Beasts); I loved both of them. I also just came back from New York City, and I'll have posts about that soon, but obviously that's not local to me.
However, I did attend a library event with my mom where we made tiles. It was supposed to be a bit of a Fall theme, but most people really just did what they wanted. I think they turned out okay…we both made two, and liked one over the other.
My family might be attending a local event tonight, and if so, I'll talk about it next month. For now though, that's about it for November's local adventures.
What about you?
Local Tourist: a blog link up to share your local adventures #ontheblog
Click To Tweet