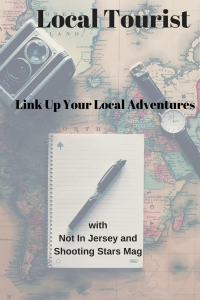 Happy Halloween, and welcome back to another Local Tourist. If you're new, this is where you can link up any past blog posts about events you attended or places you went in your hometown (AKA: show us how you were a local tourist this month). Dara from Not In Jersey and I link up every last WEEKDAY of the month, so if you don't have anything for October, link up next month!
Local Tourist #bloglinkup- What did you do in October? Let us know #ontheblog!
Click To Tweet
The Month That Was October 2018…
* On Sunday, October 7, my sister and I attended a library event where we got to decorate cupcakes in honor of the new season of Doctor Who…hence the night sky look! And yes, I count library events as local tourist events; so as you you can see, a lot of things go with this link-up! Mine are first, and my sister's are second (the more purple ones).
* On Wednesday, October 10, I attended a Bullet Journal class at another library. I actually shared a few of the pages I designed in another post, so you can check that out here: Bullet Journal 101.
*On Friday, October 12, I went to a murder mystery dinner at the Cincinnati Zoo with a friend. The food was really good and the actual "murder mystery" was fun! I did a whole up write up of that event already as well: Murder Mystery Dinner at the Zoo!
*On Saturday, October 13, I went to Burger Farm for their Fall Festival. It was a lot of fun having my nieces and nephew around this year – they all had a really nice time. You can read more about that here: Burger Farm in Cincinnati Ohio.
*On Sunday, October 14, I went back to the Ohio Renaissance Festival with my parents and my sister. We all really loved it!
*On Thursday, October 18, my mom and I went to a library event and made Halloween candy jars. I think they turned out really cute, and I'd love to make more for upcoming holidays! What do you think?
*On Saturday, October 20, my parents, sister, and I went to King's Island and attended their Halloween Haunt. Unfortunately, it was really windy so a lot of rides weren't working- I don't ride a ton, but even the ones just my sister likes weren't going on. We didn't stay too long, but it's still fun to go at least once every Fall!
*On Thursday, October 25, my mom and I went to ANOTHER library event where a chef came and showed us how to make some fun Halloween treats. We even got to try all of them, which is always nice – my favorite was probably the punch!
*On Sunday, October 28, my mom and I met up with my brother's family at King's Island for the The Great Pumpkin Fest. It was chilly, but we all had a really good time – the kids got some fun goodies and candy, and they also got to ride a lot of rides with either no or minimal wait times. so win-win for them! It was the last day of the Halloween festivities, so I'm glad we were able to make it there with the kids.
*On Monday, October 29, my sister and I went to a book event for author Lois Lowry and were even able to get a book signed! I'll have more on this in a future post, but it was great!
Whew, that's a busy October! Definitely a lot of library events in there. November should be a bit slower on that front, but still 2-3 events I believe. I'm also linking up with What's New With You!
Anyway, do you have any fun Local Tourist posts to share?
If you don't, feel free to comment on what fun things you did in October!