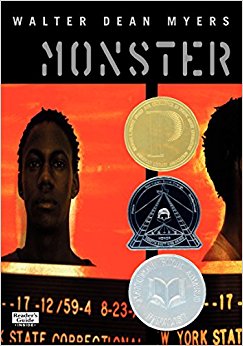 Monster by Walter Dean Myers


Review by Lauren


Source: copy from library; all opinions are my own


Official Summary: This New York Times bestselling novel and National Book
Award nominee from acclaimed author Walter Dean Myers tells the story of
Steve Harmon, a teenage boy in juvenile detention and on trial.
Presented as a screenplay of Steve's own imagination, and peppered with
journal entries, the book shows how one single decision can change our
whole lives.
Fade In: Interior: Early Morning In Cell Block D, Manhattan Detention Center.
Steve (Voice-Over)
Sometimes
I feel like I have walked into the middle of a movie. Maybe I can make
my own movie. The film will be the story of my life. No, not my life,
but of this experience. I'll call it what the lady prosecutor called me
… Monster.
Review: This was another book I chose to read for my young adult class. We were told to pick something by Walter Dean Myers, and I thought Monster looked quite good. This is a book that you could easily read in a day, or even a couple hours. It's written as a screenplay, Steve imagining his current situation as a movie he could tell, as well as journal entries here and there. This style was interesting and it made the book unique, as well as allowing the novel to stay at a fast pace.
Steve Harmon is a teenage boy who is now on trial for his life, along with another man, for being involved in a robbery where the owner was shot and killed by his own gun. Steve was supposedly the one who scoped out the store beforehand to make sure it was empty of customers before two other men robbed the place (one of which is James King, also on trial). It's fascinating to see how the justice system works and how the prosecution is willing to make deals with criminals and other people who admitted involvement in this crime in order to make sure someone is put in jail for the death of this store owner.
As readers, it's easy to feel sorry for Steve. You can see a young boy getting involved with the wrong crowd and finding himself in jail. It's easy to imagine, but Monster doesn't provide all the answers. You do get a verdict in the end, but a lot is still left in the air as to what you think about these characters. Definitely worth reading, and I could see a lot of reluctant readers enjoying this one.