I'm posting this a tad early, but every second Friday of the month is Glossies Made Me Do It! Do you like reading magazines as much as me? Have any of them inspired you in any way lately? Make a post – blog, social media, it doesn't matter – and link up below!
Glossies Made Me Do It: Woman's Day Magazine
The March 2021 issue of Woman's Day Magazine clued me into the fact that March is National Crafting Month! How did I not know this? If you've been reading my blog for awhile then you know that I LOVE a good craft. I'm not necessarily the best, but I find it fun. That's one thing I miss because of Covid…all the library events I would go to with my mom where we got to make various crafts. They do have a lot of Take and Make options, where you can pick up the supplies and make the item at home but it's always more fun to be there in person.
Anyway, in honor of National Crafting Month, I thought I'd share some crafts I've worked on in the past year that I don't believe I've ever shared here. If I have, whoops, but I know most of these should be new!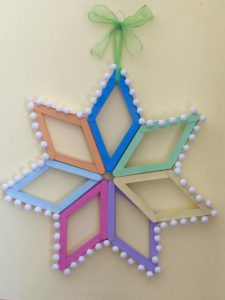 I actually found this craft on Etsy and it turned out fantastic! One of the sections is a bit off, because I glued wrong somewhere but it's not really noticeable when it's all together. I will say that I painted every.single.one. of those popsicle sticks! Everything was included minus the hot glue which was great. I didn't have to worry about anything, and it's such a cute Spring/Summer decoration! It's almost time for me to take it out again…I made this last year.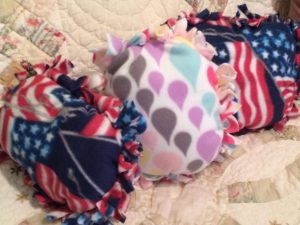 These were a library craft. We got all the supplies in a bag and we made them at home. The American flag pillows are my mom and sister's and mine is in the middle. These are no-sew fleece pillows, and they were fun to make. I'd like to make them again but with more felt, as they obviously turned out pretty small. I want to use the same technique to make no-sew fleece blankets too!
This was another craft I found on Etsy. It's actually something for kids but I had a lot of fun putting the little guy together. Again, everything you needed came with the kit – even some glue – but I ended up using my own hot glue gun because it worked better. The legs were a bit tough to get inside the can and situated so they didn't fall out, but I love the result!
***
What do you think of the above crafts? Have you made anything recently? 
Happy National Crafting Month! 
Link Up With Me Below: 
You are invited to the Inlinkz link party!