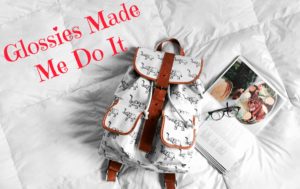 A monthly blog link up where Erika, Ashley, and I all share what Glossies Made Us Do that month (glossies = magazines). Please join us; even if a magazine just made you add something to your wish list, it counts! The link up below will last a couple weeks so you have time!
Looking over my October 2017 magazine issues, there were a couple of fashion items that I really wanted to get and try out for this feature. Unfortunately, I ran out of time, so there might be another Glossies Made Me Do It post later this month. We shall see! Since that didn't work out, I thought I'd turn this into a bit of a discussion post based on the October 2017 issue of O Magazine! There is an entire section about finding time to do what you love, using your time wisely, and even some great products that will help you save time! One of the things that really stuck out to me is the part that talks about things you can give up doing – or lessen your time doing – without feeling guilt. The last one on the list? Giving up on books! It says that if you've reached the 50th page in a book and it's not working for you, toss it aside! So…let's discuss!
Do you have a set time to DNF a book?
I know a lot of book bloggers have a set moment when they decide to toss a book aside; we call these DNF reads, which means we Did Not Finish them. I've heard of the 50 page rule before, which basically means that if the first 50 pages has not captured your interest, then it's a-okay to put the book aside and start on something else. I don't mind DNF-ing books. It doesn't happen often because I'm fairly good at choosing books that I'll enjoy, or at least want to finish, but it happens.
I have so many books to read  – for review and just for fun – that I don't want to waste precious time slaving over a book that isn't working for me. Yes, this sometimes include review books (though hardly ever). When that happens, I DO post about it but I share why it wasn't working for me so that other people have a shot of making up their own mind. Maybe the book still sounds like something they'd want to check out, and that's cool with me!
I don't really have a set page or percentage rule though. If I'm on my e-reader and it's before the halfway point, I'm probably more likely to set the book aside than if I was further in. Once I've been reading for awhile, I tend to want to know what happens in the end and can push myself to finish.
What about you though? Do you ever DNF a book? And if you do, is there a page or percent rule that you follow, or does it depend on the book? Have you ever read past 50 pages or 50% and STILL DNF-ed in the end?
Let's discuss!!!
Glossies Made Me Do It: Let's Discuss - When Do You DNF a Book, Or Don't You? #ontheblog
Click To Tweet
And remember, if you do your own Glossies Made Me Do It post this month, link up below. These link ups are the first Friday of every month if you want to join in next month! We'd be happy to have you!
Don't forget the following giveaways going on now:
Monsterland Blog Tour Prize Pack – enter here
Hunting Prince Dracula Prize Pack (Book is International, whole PP is US only) – enter here