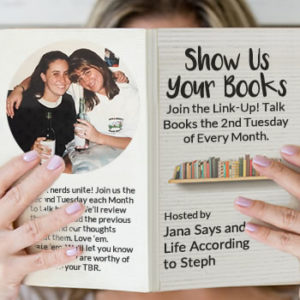 Happy Tuesday! It's time for Show Us Your Books with Jana and Steph.
I'm an affiliate with bookshop.org, so any purchase supports independent bookstores and I get a small % at no extra cost to you.
View this post on Instagram

copy from Netgally; I also got a physical copy from Book of the Month (all opinions are my own)
Review: If you recognize the author's name, it's because they also wrote Red, White, and Royal Blue. One Last Stop is an f/f romance that, while a bit too long for my liking, is one that I really enjoyed. It has a bit of a science-fiction vibe because Jane is stuck on the subway – from the 70's. August is in the present day, falling in love with Jane, and trying to figure out how to save her, while still keeping her around. I thought both women were fascinating individuals, though I particularly loved Jane. It was fun learning more about her past! McQuiston seems to be really good at writing secondary characters too, which is something I love in a book. 4/5 stars.

copy from Book of the Month; all opinions are my own
Review: This is the first book I've read by Alice Feeney, but it will not be the last. I'm lucky that she has a backlist of some books that I can get to ASAP. Rock, Paper, Scissors isn't a terribly long book – and it read really quick too. I loved the various twists and turns throughout the book. I definitely did not see many of them coming and that's a big positive when it comes to mysteries! I highly recommend if you're a fan of mysteries/thrillers – this would make a good read for the Wintertime.

copy from Netgalley; all opinions are my own
Review: Dahlia Lighthouse grew up in what many called a Murder House, learning about true crime and how to protect oneself in the big, wide world. Unfortunately, that doesn't keep her twin brother from going missing when they are sixteen. Ten years later, Dahlia is back after her father passed away and when his body is about to be laid to rest, they find Andy – dead from an axe in the head, and buried in their father's plot in the family graveyard. Yeah, it's a lot to start the book…and it kept me reading from there. I will say that some of the reveals were a bit obvious, but not all of them. Regardless, I really enjoyed The Family Plot…and the end even had me in tears!

copy from the e-library; all opinions are my own
Review: I don't know if it was more me, or the book, but I found this to be kind of a slow thriller. I've read a lot of really positive reviews, and it's still something I'd recommend, so again…it could have been my mindset when reading. I kept thinking of DNFing the book, because it was moving slow, and I really just wanted Oliver to be honest about his attack. He didn't seem worried about physical violence from his partner, Nathan, so I wasn't sure why he wouldn't eventually be honest about having cheated…especially since things were escalating and Oliver's very life could be on the line. At any rate, I am glad I kept with this and the end had me going "what the hell?" but in an excited, 'this is what you want from mysteries' way!
View this post on Instagram

personal copy; all opinions are my own 
Review: I read, and loved, Boyfriend Material by Alexis Hall, so I was really excited to check out his latest. While I didn't love this as much, I still really enjoyed. Hall is a great writer, and he does emotion and wit really well. He's also quite good at writing secondary characters, which is something I adore! One of my book club friends compared Rosaline, her parents, and her daughter, to The Gilmore Girls and I can totally see it! I loved that Rosaline was bisexual, had a daughter, and was only in heterosexual relationships during the events in the book. Just because you're dating someone of the opposite sex doesn't mean you're not still bisexual. I think Hall handled that really well!

copy from Netgalley; all opinions are my own
Review: I absolutely love Annabeth Albert. Sailor Proof is the first in a new series from her – all the books will be companion novels. It was a great, quick read, and I was excited to dive into the lives of Naval Chief Derrick Fox and his best friend's little brother, Arthur Euler. The two create a quick "fake romance" to make Derrick's ex jealous, but it quickly gets out of hand when Arthur's parents see the big homecoming kiss and are excited about the new romance. The two decide to fake the relationship for the Euler family camp trip, and of course, sparks fly and what started as something fake turns very, very real. I loved Derrick and Arthur together. They are both really positive influences on each other, and it was super sweet to see them falling for each other. I loved how different they seemed on the outside, but how perfect they actually were for each other.
***
Two reviews that I already had posted —

Read my review for Survive the Night – the post also includes my Instagram and TikTok "reviews" for the book. 

Read my review for This Is Why We Lie