This is my last Bunbury post! Thanks for all the comments and I'm sorry if these posts weren't as interesting to you as some of my other ones. I have a lot planned for this week from book reviews to movie reviews, maybe those will be more your speed.
~~~
Confused about the title of this post? The Bunbury Music Festival gets its name from one of my favorite plays – The Importance of Being Earnest by Oscar Wilde. Bunbury is a fake friend that allows you to get out of doing something you don't want to do in order to go off and have fun…AKA Bunburying!
~~~
I do suggest you look into the Bunbury Music Festival for next year though and you can even like them on facebook if you want to know who all is playing next July!
Sawyer Point- Festival Grounds
photo by Kari Becker
Thanks to my friends that attended Bunbury for letting me know some of their likes and dislikes!
What did you like about Bunbury? (from the music, to the festival, etc.)
I definitely loved the music at the festival, they had a great line-up for their first year. I also really liked how there were other things to do there, such as Techbury and the Craft Beer Village, where you could get a taste for local beers you may have not had before. The thing I liked most about Bunbury, though, was the organization. I heard many of the bands comment on how great the festival was compared to others, and they are absolutely right. The organizers had the fans in mind when they planned it (setting up water stations, allowing kids in free, allowing re-entry, etc.).
-Kyle Greely
One of the things that I really liked about Bunbury was that it was a music festival that I felt had the perfect combination of local bands and well-known headliners which made it a very worth while experience. I not only got to see some of my favorite bands such as Grouplove, Scars on 45, and Deathcab for Cutie but I also had the chance to discover tons of new bands, many of them being local bands that I can now listen to in smaller venues around the city! I honestly didn't realize how awesome of a music scene Cincinnati has and Bunbury has definitely opened up my eyes to this!
-Alicia
I LOVED Bunbury. The music was great, the festival was well put together, and the people were a lot of fun. You could never tell this was their first year. They did a great job containing such an open space.
-Amy Foppe
There were a ton of amazing bands and people. The atmosphere in general was just really great and friendly; everyone was there to hear some great music.
-Chelsea from The Glitter Pox
Ohio River view from the festival
photo by Kari Becker
I loved the set up of the festival and I hope that it's still at Sawyer Point next year. Having it by the Ohio River allowed for some nice breezes and the area was more open and relaxing than other festivals I've been too (Warped Tour, Bamboozle in New Jersey). During the headlining sets, there were videos on both sides of the stage for people in the back to see the band up close, but there were also boxes in the corners of the screen that had someone doing sign language through the whole set. I loved this and thought it was a wonderful addition! Food-wise…I was a big fan of the smoothie stand. Perfect for a warm day, and it's like you're eating and drinking something refreshing!
-Lauren Becker
sign language in the bottom left hand corner
photo by Kari Becker
What would you like to see changed or added next year?
Next year, I'd like to see another great set list (obviously), and more food options. There was a decent variety, but there is definitely room for improvement there. Also, I hope they don't take the popularity for granted and raise the price next year. The fantastic price ($100 for a 3-day pass) was a HUGE incentive to go to the fest.
-Kyle Greely
I will definitely be attending Bunbury 2013! If they were able to get so many great bands to play for the first year, I can't imagine the bands they will be able to bring to Cincy in the future! I think the venue was perfect because it was definitely big enough for everything that was going on but I was still able to be close enough to the bands to the point that I felt like I was at a more intimate concert at a smaller venue.
-Alicia
I definitely plan to attend next year, given they get some great acts again. I think the Globili and the Bud Light stages could be swapped, making Bud Light the main and central stage. (If they could get the stage itself bigger.) It had a larger lawn and every one seemed really smashed in at Globili.
-Amy Foppe
Would love to see a few smaller bands in between the larger sets. There were a few that I loved seeing, but I really love finding new bands and supporting them. Also maybe have the merch/meet & greet station a little more organized or easier to access, but it was awesome to be able to meet some of the bands, regardless!

-Chelsea from The Glitter Pox
I don't really have much I'd want to see added. I really just want certain things to stay the same, and like Kyle, I do hope the prices don't go up! I was lucky to get a press pass this year to provide coverage of the festival, but I still agreed that the price was good for a three day festival. I would, however, like some more options for food as well. A lot of what I saw was a bit too heavy for a hot day, but I liked that they included local options!
-Lauren Becker
Cool stage on the edge of the river. Don't you like the seats going down?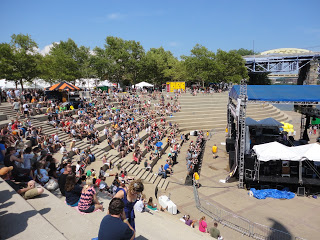 photo by Kari Becker
What bands did you love seeing this year?
I loved seeing The Airborne Toxic Event, Ra Ra Riot, Weezer, City and Colour, and Death Cab for Cutie especially.
-Kyle Greely
I loved seeing Kevin Devine and Airborne Toxic Event. Kevin had a fantastic and laid back set at the acoustic stage. And Airborne put on a great show at Globili. Weezer was probably my favorite headliner, which surprises me since I was more excited for Death Cab for Cutie going into it. But Weezer had a great set list of all their classic songs and you could feed off their energy. Death Cab for Cutie were also great to see again. The crowd was more relaxed and it was a great show to just sway and sing along to with friends. A perfect end to a great weekend. 🙂
-Amy Foppe
Another view of the park- festival grounds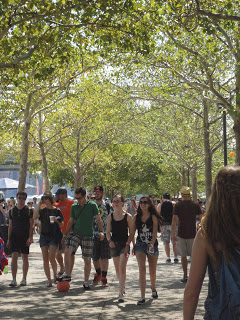 photo by Kari Becker
Chelsea from The Glitter Pox was the one friend I had that did not live in the immediate area, so I wanted to ask her a few questions about traveling to Bunbury for those of you that live semi-close to Cincinnati and might want to go next year!
1. How far did you have to travel to get to Bunbury, and what made you decide to go to this festival?
I'm from Cleveland, a little over four hours away. It's great to see a festival in Ohio that's reasonably priced and with such an amazing lineup. Ohio is home to a lot of great bands, so it's awesome seeing some music recognition for the state.
2. Would you go to Bunbury again next year, and would you suggest the festival to anyone else you know?
Yes! Absolutely! I had an amazing experience. It was a fantastic first year, and I'll definitely be back again. Already have post-Bunbury blues.
Overall, I loved it! 🙂